Why Meatless Monday?
In our mission to create an equitable and sustainable future, Ecolibrium3 is pledging to cut out meat once a week to decrease our carbon footprint and water usage while saving money and creating wellness. We want Duluth residents to join us in making healthy neighborhoods and choosing sustainable practices. 
This page will include our weekly meat-free recipes from our neighbors in Duluth as well as from staff at Ecolibrium3. We would love to hear from you! Send us an e-mail directly with a recipe, or comment on our Facebook page, where the recipes will be posted on Fridays to prepare you for the week ahead.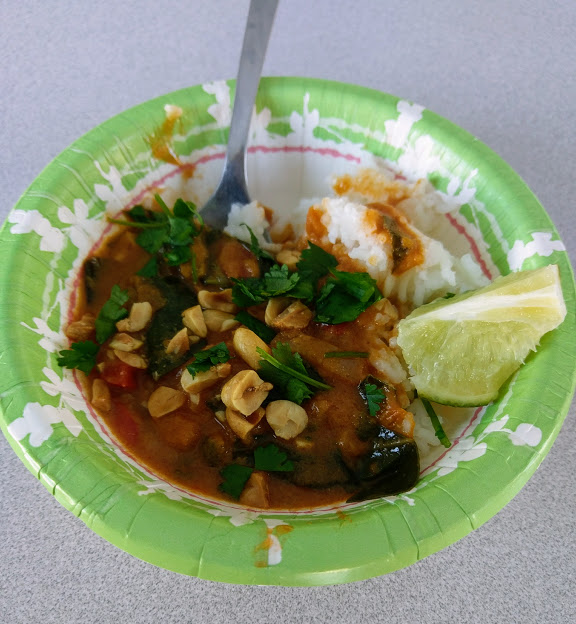 | | |
| --- | --- |
| | |
In a large pot over medium heat, warm the olive oil. Add the onion, sprinkle with salt and cook for 3 minutes, until translucent. Add the garlic, jalapeño, ginger, cumin and cayenne then stir together and cook for about 2 minutes.

Add the tomato paste and stir together. Add the red pepper, sweet potato, peanut butter, vegetable broth and water. Stir together and bring to a boil. Reduce heat to medium-low, cover and cook for 15 minutes.

Add the chopped collard greens to the pot, stir, then cover and continue to cook for another 15 minutes, until sweet potato is tender.

Using the back of the spoon, mash some of the sweet potato to help thicken the broth. Boil uncovered for 5 minutes.

Serve warm with rice and garnish with cilantro, peanuts, lime juice, and hot sauce.
This week, it was our Ecolibrium3 staff member Shannon's turn to make the staff lunch and she added her own notes and description below!
"Eco3 member Zach and I had been talking for some time about how much we liked African Peanut Stew. There was a lot of curiosity in the office about the recipe, so I thought I'd try to find one without the chicken base my usual go-to recipe has.
I found a recipe at makingthymeforhealth.com and what follows is that recipe with just a few changes. It is a good, basic recipe easily adapted to whatever types of vegetables you like or have on hand like substituting carrots for sweet potatoes or kale for the collards. Even with the inclusion of the jalapeno pepper, this is a mildly spiced recipe.
If I had made this for myself, I would have increased the heat by adding more jalapeno, garlic, and ginger. Alternately, serving this with your hot sauce of choice on the side (Sriracha, anyone?) can help satisfy the spice lovers while keeping those with more delicate palates comfortable. Because I'm a foodie, I'd be remiss if I didn't include some general cooking info about some of the recipe ingredients to help you with your future kitchen adventures. For those not in the know, most of the heat in a jalapeno is found in the ribs near the top of the pepper, with some heat in the seeds as well. So, if you want to keep it cool, cut out the ribs and seeds as I did for the communal lunch.
Adding salt while you are cooking dilutes the salt taste, but not the sodium content, so it is always a good idea to keep salt at a minimum during preparation as it can always be added later at the table. With that said, one of the very first instructions in the recipe is to use salt when sautéing the onions. This is to help them release moisture, so do use it. Don't worry – it doesn't take much. If you are watching your salt intake, you can also use reduced sodium broth. If you up the spices, you can increase flavor at the same time you are reducing the sodium.
One last thing; this recipe freezes and reheats well, so double the batch, freeze some, and you'll have a quick go-to meal later on with very little effort. I hope you enjoy this as much as we did.
- Shannon
Meet Duluth's Contributing Foodies
Ellen  Vaagen
This weeks recipe comes from a Duluth community member,  Ellen Vaagen! I saw this recipe on her website Vaagen's Vegan Sauce  and it just spoke to me. It's easy, quick, and full of chickpeas!  I have to admit, I rinse chickpeas off and eat them one by one as a snack.
Ellen is a Duluth-based vegan food blogger. She grew up in Fargo, studied and lives in Duluth, and traveled across countries coming back home to bring excellent recipes and techniques ready to be shared. Ellen is charismatic, intelligent, and a go-getter. You can find her singing karaoke at the local bars, visiting the beach in the summer, and taking hikes across the Northland area. This food blogger is ready to shift the way mid-westerners view the vegan diet with education, delicious recipes, and great tips on how to start. Learn how to stock a vegan pantry, how to mix spices, and become inspired by purchasing Ellen's E-book, "Vegan by Vaagen: a Guide for Beginners"
See her recipe for a Himalayan Chickpea Salad here.
Jordan Decker
Jordan moved to Duluth five years ago and never looked back! She would never give up this breathtaking scenery and finding all the little gems in the area. What drew her here was the lake and she exclaimed that  "you can be in the middle of downtown and go 20 minutes to any direction in Duluth and you either end up in some sort of nature of the lake!" She has been working for local businesses since she arrived and loves contributing to the community, especially the food community!
She eats meat but found inspiration cooking vegetable dishes through the blog and now cookbook series, Thug Kitchen. She calls herself an accidental vegetarian. It just happened as she made new recipes that she found herself attracted to the new ways of cooking veggies! Now she started a garden and finds great joy in trying new recipes with freshly picked tomatoes and kale from her garden!
Her biggest tip for people new to cooking vegetables, is to get yourself a five dollar steamer! It improves the quality of vegetables considerably while still maintaining the nutritional value.
See her recipe for Green Curry Broccoli Soup here.
Zach Shears
Zach recently graduated from the College of Liberal Arts at the University of Minnesota – Duluth with his B.A. in Urban and Regional Studies. He came to Duluth by way of the tiny town of Cotton, MN. He currently resides in Central Hillside with his fiancée, Alexandria, and their Boston Terrier, Mack.
Zach's favorite thing about Duluth is the week of Homegrown Music Festival in April/May; during Homegrown 2017 he performed with the rock band Paper Parlor as well as reading some of his work at the Homegrown Poetry Showcase. Most of his free time that doesn't involve creating or appreciating some sort of art is spent appreciating the natural world, especially the slices of it that lie along the Superior Hiking Trail. He finds Duluth to be a place of unparalleled synergy and play between wilderness and the built environment.
As an AmeriCorps VISTA, Zach works on building capacity for leadership among the residents of Lincoln Park, and identifying possible neighborhood improvement projects. His work will enable these resident leaders to develop skills in project management, volunteer organization, government interaction, and more so that they can strengthen their communities going forward.
See his recipe for Homemade Veggie Pizza here.
Meet the Writer
Emily is an AmeriCorps Vista working with Ecolibrium3 as the Lincoln Park Food Systems Development Coordinator. She has a degree in Applied Sociology from St. Cloud State University. Emily has been a vegetarian for ten years and has practiced garden to table cooking with her mother for the last four years.