You've decided to visit the Lincoln Park Craft District in Duluth – Welcome!
We are so excited to share our neighborhood with you. With local art for the public, hand-made, one-of-a-kind items (a great many made right here in Duluth), and award-winning food & craft beverages, you never know what surprises you'll come across. We know you'll have a great time. 
We won't lie – there is a bit of construction going on. But this page will help you get right where you need to go. You can Get Here From There… wherever you may be. 
For up-to-the-minute road closure and detour information throughout Duluth, click here.
For Twin Ports Interchange project information, click here. 
And because we want you to be prepared for Minnesota travels outside of Duluth (because we're just that nice), click here. 
Get Here From There – Lincoln Park Craft District
Lincoln Park is at the geographic center of Duluth which means that however you get here, it won't take you long.

Lincoln Park does not have a public parking lot. Although some of our businesses have their own lots, you will see that many have been converted to spaces that will introduce you to a uniquely Lincoln Park experience. Your best bets for street parking:

1700 & 2200 blocks of West Superior Street

2000 block of West Michigan Street

First Street on the 1800 – 2000 blocks

Lincoln Park also happens to be the home of the first protected bikeway in Duluth, so grab some wheels and ride on over to see more of Duluth up close and skip any parking space concerns. Scooter and e-bike rentals are easily accessible throughout the city.

Public transportation to Lincoln Park can't be beat, either. Routes 1,2,3,4, 8, & 9 will all bring you into the heart of the district with a price that can't be beat. Find schedules here.

Rideshares like Uber & Lyft and local cab companies are also ready to get you where you need to be – an especially great option if you have enjoyed a few adult beverages.

The best part of Lincoln Park is that it is enjoyably walkable. Get out, get around, and we know you'll have a fantastic time!
You can Get Here From There!
Have questions about Main Street or Get Here From There?
Email MainStreetLNPK@ecolibrium3.org to learn more!
Always stay up to date on our work in Lincoln Park!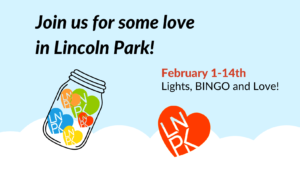 Lights, BINGO, and Love all happening in the Craft district.
Read More »