Duluth Art Institute's neighborhood youth leadership program using the LNPK Hub for mask making.
The Union Pacific Foundation has awarded Ecolibrium3 a $15,000 grant to advance the redevelopment of the Lincoln Park Community Center. Eco3 is working with multiple community partners to reimagine the closed community center as a Resilience Hub that not only enhances services available in the neighborhood, but can function as emergency space during times of disaster.
"The Hub is in perfect alignment with the work of the Union Pacific Foundation." Said Jodi Slick, Ecolibrium3 CEO. "They focus on helping communities prevent and prepare for accidents and emergencies and prioritize equitable access to community spaces through infrastructure improvements- that's exactly what the Resilience Hub project does."
There are three phases to the LNPK Resilience Hub development. The first phase, will be the redevelopment of the basement space into the City of Duluth's permanent Winter Warming Shelter, operated by CHUM. The second phase is renovation of the upstairs of both community center buildings to house multiple service providers, workforce training space, a community accessible computer lab, and community gathering space. The final renovation will be of the commercial kitchen space to further food access in the neighborhood and add solar with batteries to expand overall community resilience during disasters.
"Lincoln Park is a neighborhood that faces significant health, transportation, and economic disparities. Building resilience capacity here is exactly what we should be doing to address equity and safety." Said Slick.
The Union Pacific Foundation supports multiple organizations with a focus on safety, workforce development, community spaces, and local needs to improve the quality of life, address critical challenges, and advance diversity, equity, and inclusion. Grant funding will support project management for the redevelopment of the LNPK Hub.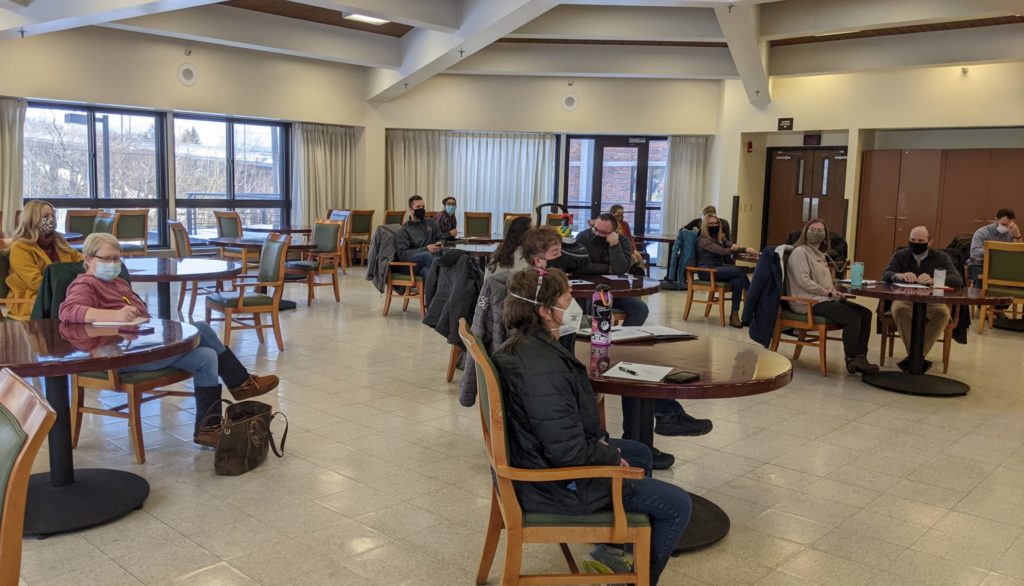 Lincoln Park businesses and residents meet with Mayor Emily Larson in the LNPK Hub to discuss neighborhood issues.