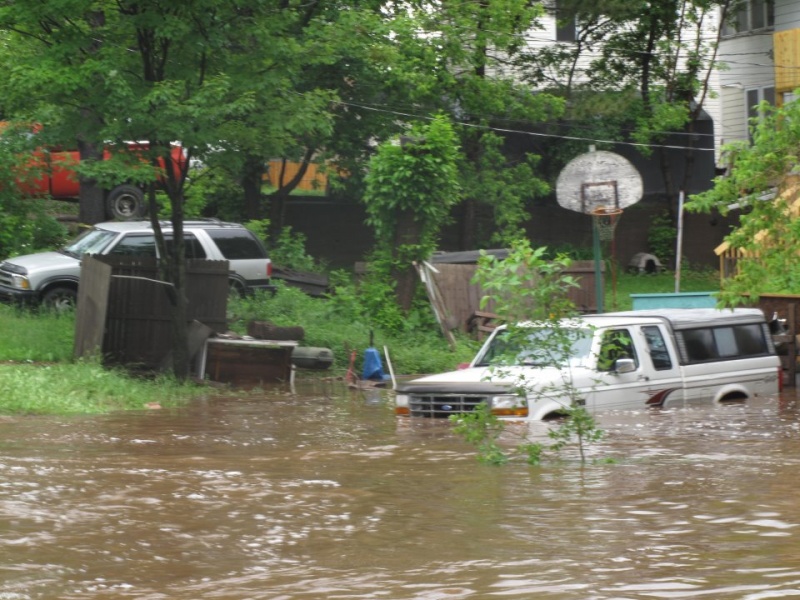 In the next two weeks, there will be many stories that look back on the flood of 2012.  During that flood Ecolibrium3 led the regional flood recovery committee, provided disaster case management and reconstruction assistance, and was recognized by the White House for the new model of disaster recovery we created after the 2012 floods. It is how we apply what we learned in 2012 however, that matters most to our community's ongoing resilience to climate change and the increased frequency and severity of expected weather events. Some of what we learned and the active work our community needs to do includes:
Understand the type of flooding experienced by our community and develop a Ready4Rain Housing Program. In 2012, the Duluth community experienced flooding from rising water along the St. Louis River, waves along the lake, and flash flooding as water cascaded down the hillside. With lake and river flooding, water rose and fell over a long period of time and affected full neighborhoods like Fond du Lac. For homes that experienced flash flooding along the hillside, the story was different. In these cases, water from existing creeks or new water routes formed due to the intense rain follows the topography and hit some homes while leaving the surrounding homes unaffected. Key to preventing future storm damage is implementing a community-scale project that focuses on preparedness and resilience such as Ready4Rain Housing. 
There are four things that should be adopted for each household to be Ready4Rain Housing to reduce potential flood damage and creates healthier homes through air quality improvements (to reduce mold and mildew). These include: 1) address water infiltration into basement foundations, 2) reduce any bulk water flowing toward the foundation by adding gutters and downspouts (with extenders) and ensuring the landscape slopes away from the foundation, 3) reduce potential sewer backups, and 4) make sure that there is a battery or siphon-style backup to sump pumps as rain events are often accompanied by power outages. These actions are the best way for individual households to build flood resilience, and when coupled with community-based green and gray infrastructure improvements, form a holistic approach.
Improve post-disaster data collection and help community members understand the importance of sharing their experience and needs. When Ecolibrium3 started our disaster assistance through Ordean Foundation Funding in response to the June 2012 flood, we became the first disaster case managers on the ground. Most of the disaster assistance, including important Minnesota Housing Finance Agency's Quick Start Loans, was not available until fall. This delay occurred because state and local governments appealed a decision the federal government made to not give individual assistance to households. The appeal was denied and our region was left without FEMA support and funding to help individuals (although public aid was given for roads, culverts, parks, etc.). 
In 2012, we did not receive that larger federal aid because the flash-quality of the food removed outward signs of flooding, even though basements were significantly damaged. In river flooding when rivers rise and the water sits for a while, there is often a "ring around the house" that shows how high the water rose and gives emergency management an easy drive-by view of who has been affected. This is not the case when the water penetrates quickly and then continues down the hill. In addition, when many steadfast Northlanders didn't seek assistance at the beginning of disaster recovery due to a pervasive culture of "others have it worse" or "I can fix it myself," the extent of the disaster was undercounted, leading to the loss of valuable resources to our community.
Since 2012, the Ready North Network has formed to bring together approaches on preparedness, response, recovery, and resilience. Ready North Network members include emergency government, utilities, hospitals, service organizations, and VOADs (Volunteer Organizations Active in Disasters). Ready North is working between organizations to ensure the systems are more prepared for future disasters, but it will still take each affected household and business to participate in data collection to ensure the right level of resources are available for recovery. We need to understand that if "others have it worse," the best way to support their recovery is to let one's own damage be known to create the comparisons. It is also imperative that households go through the initial steps for disaster assistance even if they think they can fix their problems themselves. There are specific time requirements on disaster support and we found in 2012 that deadlines passed before those that were affected realized that the problem was outside of their individual abilities. It is important to get in line for assistance. One can always decline it later, but it is important to keep the option open and help your neighbors by increasing the need for a larger state or federal pot of funds, as well as avoiding the need to eventually depend on local fundraising.
The best time to plant a tree… There is a saying that the best time to plant a tree is 30 years ago. The second-best time is today. When we look at the increase in disasters we are experiencing due to climate change, we need to act. We cannot go back, but we can look forward as individuals and as a community. We can take actions that have the greatest opportunity to reduce our greenhouse gas emissions. We can all be part of the City of Duluth's Race to Zero (NetZero). How? That is complicated, but Ecolibrium3, along with multiple community and environmental partners, has made your journey easier through the 2020 release of the Duluth Citizens' Climate Action Plan. In that plan, you can learn about the four most impactful areas of action for Duluthians (food, transportation, buildings, and energy production), understand individual and business actions, and engage in advocacy to our government and utilities. 
In 2012, one role that Ecolibrium3 took on was working with the Duluth Superior Area Community Foundation and United Way to try to raise funds for flood recovery. At the time, we felt like it was a compelling story; after all we impacted by a disaster! It proved to be more difficult than we imagined. A report was released that year that demonstrated we weren't special. in 2012, over half of American's lived in a county that had a disaster declaration…and that was before Super Storm Sandy arrived in the fall. 
We need all hands on deck to reduce future impacts to our families and communities. According to NOAA in 2021, in the last five years just the cost of "billion dollar" disasters nationally has been $742.1 billion dollars, or $148.4 billion annually. Adding the cost of lives and mental distress, that figure grows. It is through our efforts that we can bend this trend by taking climate action now. Join Ecolibrium3 and let us know what actions you'll take by logging them at the Duluth Citizens' Climate Action Plan.