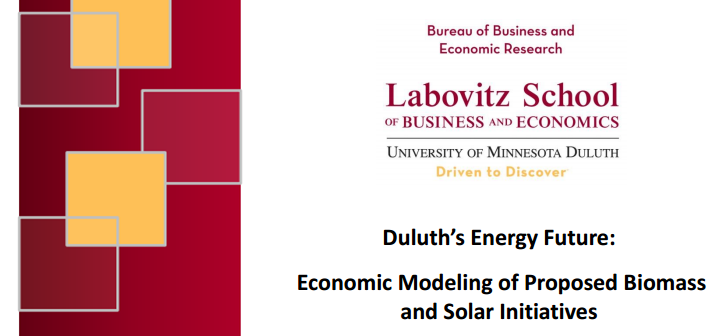 ---
Duluth's Energy Future: Economic Modeling Report
Ecolibrium3, with funding from RE-AMP's Local Solutions Fund, hosted a two-day community energy charrette. The results of that charrette indicated a need to look at the regional economic impact of strategies to expand energy generation from local sources. Ellen Anderson, director of the University of Minnesota's Energy Transition Lab was a participating stakeholder and worked with Ecolibrium3, the City of Duluth, Duluth Energy Systems, the Great Plains Institute, Innovative Power Systems, and the Natural Resources Research Institute to define a research project that could advance understanding of options. With funding from the McKnight Foundation, the Energy Transition Lab worked with UMD's Bureau of Business and Economic Research (BBER) to complete economic modeling required for the project.
Five projects were selected for economic analysis based upon local feasibility and interest including:
The Grand Marais Biomass District Heating System
The Duluth Energy Systems Plant Retrofit and Biomass Conversion
A Torrefaction Processing Plant
Two Biorenewable Chemical Production Plants
Solar Power Production Arrays (in conjunction with Ecolibrium3's Sunshot: Solar Market Pathways project)
The Bureau of Business and Economic Research is part of the Labovitz School of Business and Economics (LSBE) and is housed in the Center for Economic Development, 11 East Superior Street, Suite 210, Duluth, Minn. The BBER collects, analyzes, and disseminates information regarding the economy of Duluth, Northeast Minnesota, the State of Minnesota, Northwest Wisconsin and beyond for public and private regional, state, and federal constituencies. It provides specific research to identify economic problems and opportunities. The BBER provides unbiased data and analysis concerning the economic viability of building, expanding, relocating, downsizing, and/or eliminating businesses, especially industry-specific businesses, such as forestry, mining, and energy. It also contributes to strategic thinking about research data (forecasting, communicating, responding, developing).
LSBE is accredited by the AACSB International (Association to Advance Collegiate Schools of Business). Less than 5% of business schools worldwide have earned this prestigious distinction. In Northeastern Minnesota, LSBE is the only school to have attained AACSB accreditation. You can view its website here.