My name is Aria. This past year, I had the privilege of serving as the Equity and Economic Opportunity Coordinator through Ecolibrium3's AmeriCorps VISTA program. One of Ecolibrium3's commitments to equity is to raise the employment rate of those that are historically unemployed or under-employed. The majority of my project was spent working through CareerForce and the Workforce Development Board to research equitable hiring and retention practices for employers in Duluth.
I assisted in two projects. The first involved helping to develop the Workforce Solution Series—a year of hiring events that focused on changing practices to improve hiring of specific underemployed populations, such as those with disabilities and people of color. Another project was developing the Employer Champions Initiative, a six-month training course implemented by the Equity Committee, a sub-committee of the Workforce Development Board. This training course broke down employer's implicit biases in the decision making of who they hire, and focused on learning new tactics in recruitment, hiring, onboarding, and retention of staff. This training course is currently on hold until COVID-19 restrictions are lifted.
What a year of learning! I explored discrimination in how it operates in a work setting—affecting who got hired, who was taken seriously, and who was promoted. I learned to recognize and practice preventing my own implicit biases from affecting my relationships with partners and coworkers demographically different from me. I also learned how it's everyone's responsibility to speak up when you see discrimination happening around you. Most importantly, I learned the difference between 'equity' and 'equality' and how we may have equality in opportunities, but actually need equity to get everyone to that opportunity.
Here is an example separating equality and equity in hiring. Two people with similar credentials may apply to the same job. That is equality. Due to implicit bias, an employer may look at a resume that has a name that is historically given to an African American and give the resume a lower opinion than the similar resume that holds a name historically given to a white person. Using equity would involve leaving the name out of the deciding process and focusing only on the applicants' credentials. Building a system that prevents name bias in hiring is using equity at work.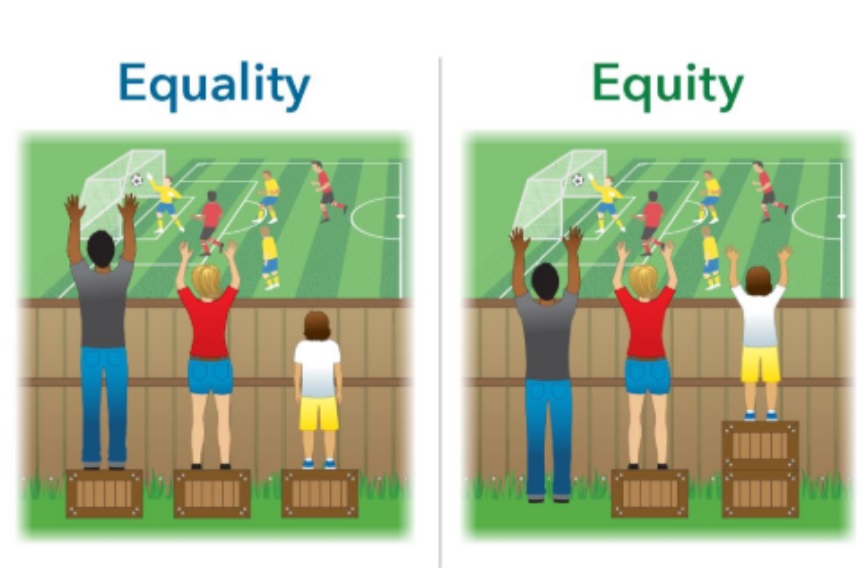 Here is a list of reading for building racial equity at work:
Diversity, Equity and Inclusion Spectrum Tool, Meyer Memorial Trust
This is an assessment tool for employers to examine their internal processes and better target which stage they are at in implementing diversity, equity, and inclusion into their organization. Understanding what an organization has been doing and locating shortfalls is the first step in building equity for employers.
Racial Equity Action Plans: A How-to Manual, Local and Regional Government Alliance on Race & Equity
This manual breaks down how to build racial equity through five steps: 1) Preparation 2) Research and Organizational Assessment 3) Research Findings 4) Develop Plan, and 5) Implementation, Reporting, and Evaluation. This report operates on the local government level, but provides advice for any organization that works across communities and other organizations.
7 Steps To Embracing Equity, Annie E. Casey Foundation
This guide provides definitions, organizational reflection questions, and suggestions to embrace equity in every area of operation within an organization.
Equitable Hiring Tool, City of Madison, Racial Equity & Social Justice Initiative
This toolkit has a checklist for every step in the hiring process for employers to ensure that equity is being used. It also provides sample interview questions, suggestions for strategizing how to reach underemployed populations, and tips for avoiding bias.