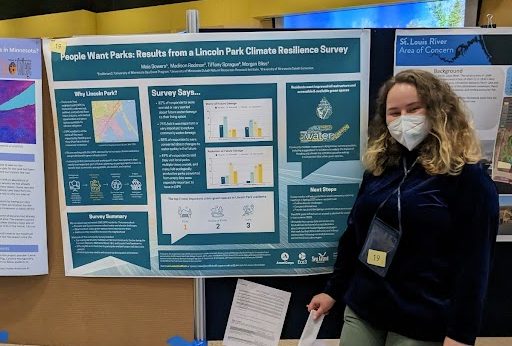 The 13th annual St. Louis River Summit, hosted by the Lake Superior National Estuarine Research Reserve at UW-Superior, has come to a close! This year's theme was "River Reciprocity," celebrating the mutual dependence between the river and local communities. The St. Louis River Summit facilitated shared community dialog related to socio-ecological issues and natural and social science in the St. Louis River estuary.
Ecolibrium3 VISTA Corps Member, Maia Sowers, presented a poster at the Summit called "People Want Parks: Addressing Climate Resilience through Green Spaces – Results from a Lincoln Park Survey." They took the lead on the One Block at a Time climate resilience survey after former VISTA Morgan Bliss, who developed the survey and collected the first 40 responses. The survey showed that residents want improved infrastructure and accessible and available green spaces. Over 70% of community members felt it was important to reduce community water damage and over half of respondents were concerned about changes to water quality in the future. Around half of respondents said they visit local parks multiple times a week, and many felt ecologically productive parks converted from empty lots were especially important to have in Lincoln Park.
One Block at a Time is a project of Minnesota Sea Grant and aims to increase community resilience to climate hazards, particularly the impacts of flooding, in vulnerable frontline communities across the Great Lakes region. The Duluth portion of the project focuses on the Lincoln Park Community and is currently in the community visioning phase, where community members will design their own green infrastructure projects during focus groups to aid in development of the Lincoln Park green infrastructure project. The community input they are gathering will inform a multi-benefit green infrastructure project for Lincoln Park, set to start installation in late Summer.
Maia Sowers graduated from University of North Carolina – Asheville with a major in Environmental Management and Policy and a minor in Economics. Maia has an interest in sustainability, urban planning, and renewable energy and enjoys most outdoor activities, doing art, and crafting. Community involvement is really important to them because people-first infrastructure has proven advantages and communities will only benefit from decisions and projects made with their participation.