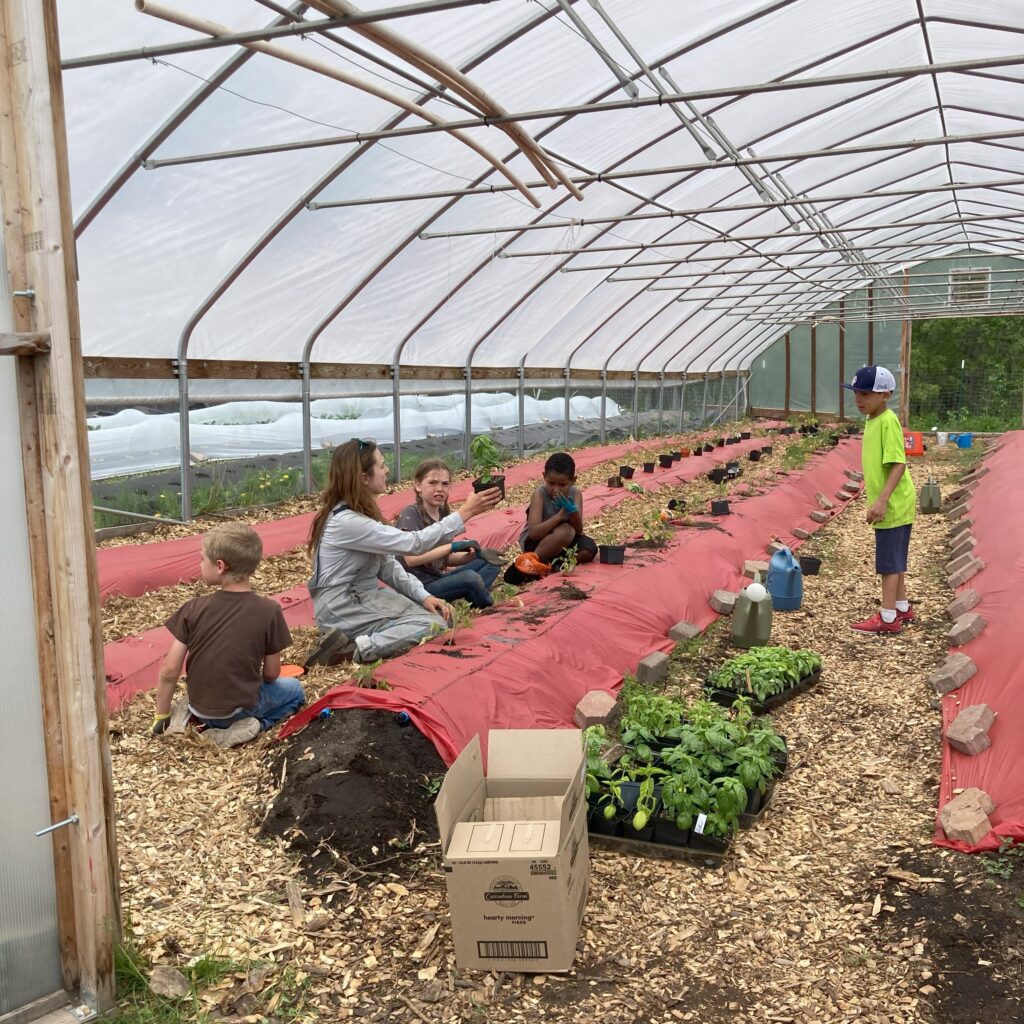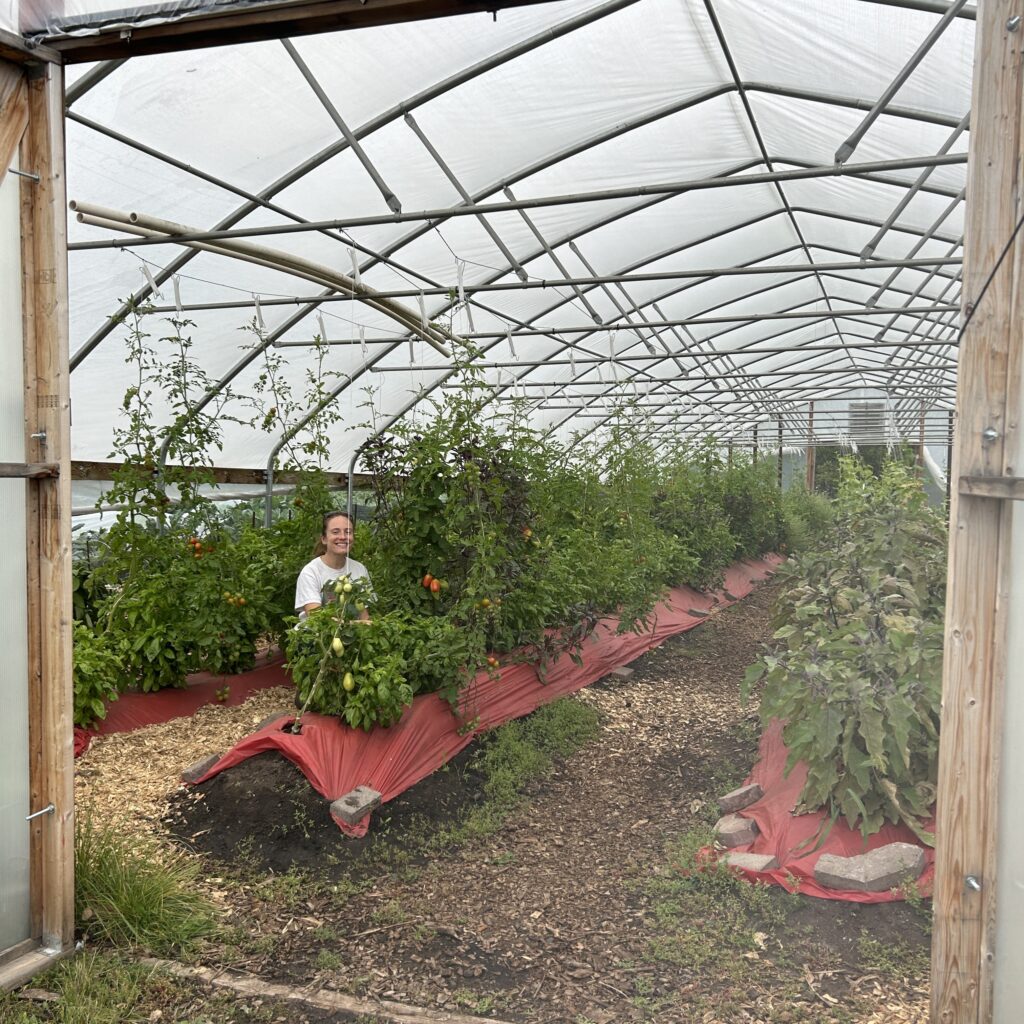 Summer has ended and so has the amazing 2023 Saturdays at the Farm series. Over the course of the summer, visitors and volunteers have brought the Eco3 Urban Farm to life! Visitors made lip balm, built pollinator homes, and learned to propagate plants. Water games, scavenger hunts, and art projects kept folks of all ages entertained. Most of all, we enjoyed meeting our neighbors and making new friends every weekend! 
We were able to welcome over 200 participants to our site through our Saturday at the Farm program in 2023, from which over 150 volunteer hours were put into improving the farm site and allowing us to produce the food that we distribute back to community members through multiple avenues. Over 1600 pounds of fruit and vegetables were grown, harvested, and distributed to the community at the Eco3 Urban Farm this season! This produce went to markets, volunteers, and food shelves. Ecolibrium3 staff, farm VISTAs, and visiting community members also enjoyed harvesting from the Farm. Saturdays at the Farm has been an incredible way to both involve community members in the site's agricultural production and share the bounty of the season!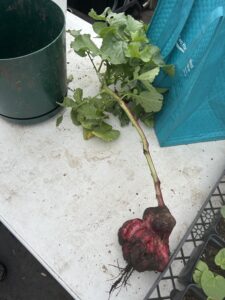 One of the greatest impacts of this summer programming has been the steadily growing feeling of community. That feeling was clear at the final celebration on September 30. Young kids, volunteers, and community leaders sat side by side and chatted over lunch, generously provided by Northern Expressions Arts Collective. Young kids excitedly ran around the Farm and gave their parents tours. Returning visitors brought friends along. And everyone had the same reaction to seeing a recent harvest: "That's the biggest radish I've ever seen!"
Another example of this sense of community is how the visitors (including Ecolibrium3 staff) constantly peppered the Farm team with questions like "What's this called?", "Is this ripe?", and "Can I grow this at home?" These questions are proof that the Farm is a space for community learning.
On September 16, local artist Jake Tremble of Out Yonder Adventures led an outdoor art workshop, in which participants were able to channel and hone their artistic skills, all while making meaningful connections with each other and the land itself. We realized through this workshop that opening up space for artistic expression on the Farm is a beautiful way for folks to interact more deeply with the site. We heard ponderings of "What raised bed has the brightest colors?", "Which veggies are the most visibly interesting?", and "Huh, I never noticed this plant before; what is that?" while folks were searching for their artistic references. On September 30, Master Gardener Geraldine Gomez Hughes led a garlic planting workshop, and the questions kept flying. After her presentation, Geraldine even quizzed participants and gave out seed garlic as prizes.
This positive, enthusiastic community was created thanks to our amazing volunteers and community partners. Thanks to all our volunteers, we were able to take on more projects than we could have managed on our own. Our partners helped us shape the Farm and shared their expertise. We are very grateful to everyone who has contributed to the Farm so far this year!
Saturdays at the Farm is over for the season, but volunteers can still come to enjoy the Farm. Every Thursday from 3:00-6:00 p.m. the Farm is open to the community. We plan to continue volunteer days until snow starts to accumulate and heavy frosts begin. This is a great opportunity for folks of all ages and abilities to experience our site, help us out with our fall farm tasks, learn new skills, and take home fresh vegetables. We hope to see you there!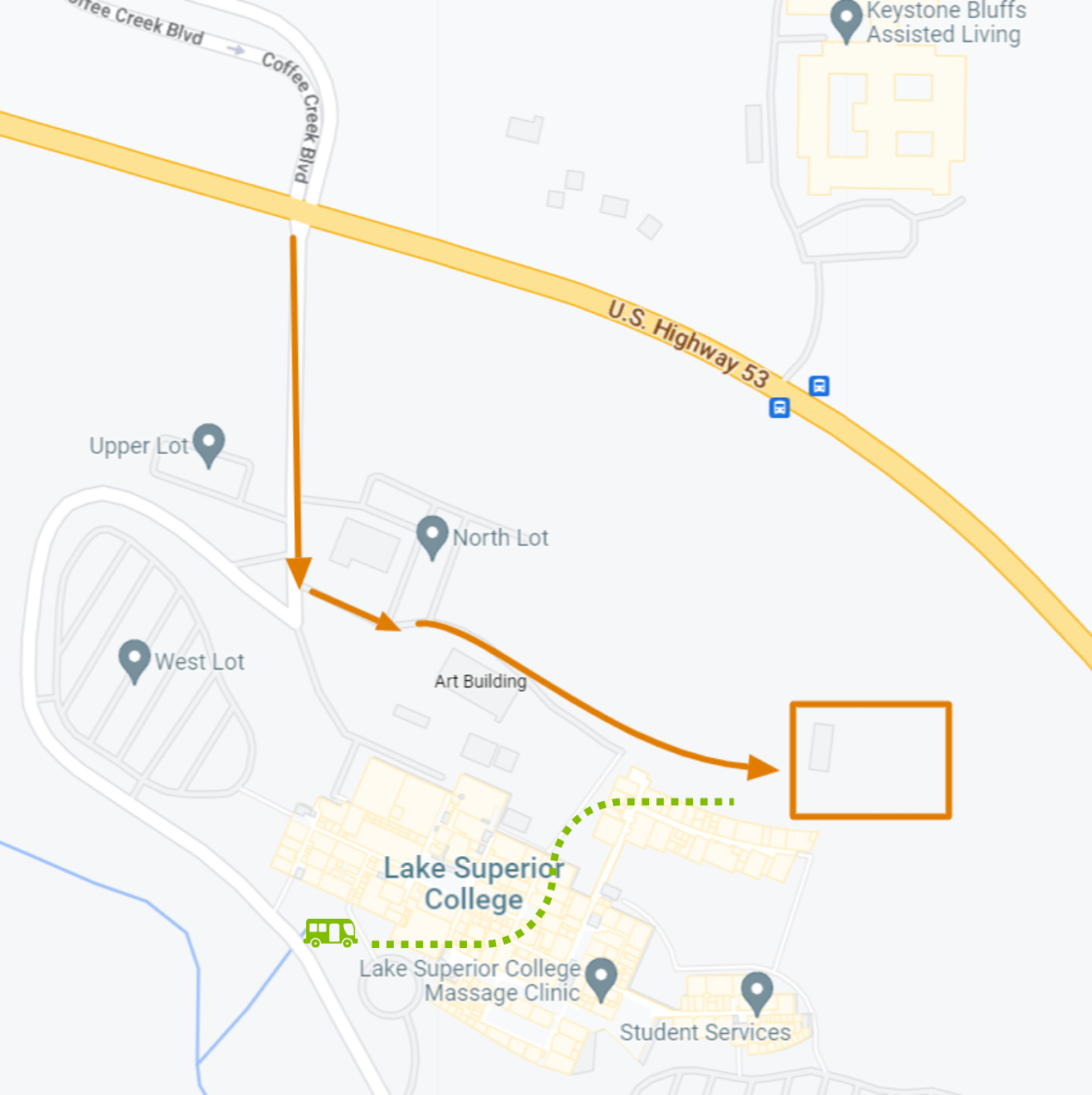 This map shows the easiest way to get to the farm by car or bus.
By car: Take Highway 53 past Lake Superior College main entrance. Turn left on Coffee Creek Blvd, then follow the roads left past the Health and Sciences building to the Farm entrance. Parking is available at the entrance to the Farm and along the road to the Farm gate.
By bus: Take route 107 to Lake Superior College, then walk through campus and past the Health and Sciences building to find the Farm entrance.
The address for the Farm is 2101 Trinity Rd, Duluth, MN. 
The Farm is also marked on Google Maps under the name "Ecolibrium3 Urban Farm."