After many months of research and development, Ecolibrium3 is proud to announce the launch of the Duluth Citizens' Climate Action Plan! This plan
 is a citizen-led effort to inspire community-wide action to reduce Duluth's greenhouse gas emissions and
build
an equitable, just, and climate-resilient community through decarbonization of our agriculture, energy, transportation, and building sectors. Developed by Ecolibrium3, the Duluth Citizens' Climate Action Plan builds on initial efforts from Duluth's Imagine 2035 Comprehensive Plan, the City of Duluth's goal of reducing its greenhouse gas emissions 80% by 2050.
A goal of the plan is to inspire the community to join in on the great initiatives already taking place through the work of many dedicated members of the community, to work with neighbors and the community at large to take on new actions, and to share their own ideas in reducing greenhouse gas emissions.
By coming together to combat greenhouse gas emissions in Duluth, we hope to build a collaborative effort with area leaders, businesses, and community members.
This is not intended to be a one-time, "we have all the answers" plan. Our hope is that it will help serve as a tool for continued community education, engagement, and visioning around building a sustainable and equitable future for the community.
Join Ecolibrium3 to virtually celebrate the launch! Learn more about the climate action plan. Get involved in a community visioning session. Take action to make lasting, collective impact.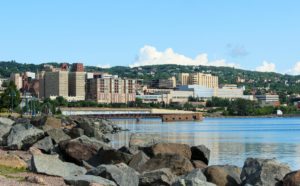 Virtual Launch Event
Tuesday, November 17th
12:00 p.m. to 1:00 p.m.