We just released four AmeriCorps VISTA (Volunteer in Service to America) positions in northeastern Minnesota to start in April 2020! Have you ever wanted to do creative outreach in the arts? Check out the Community Outreach Coordinator VISTA position with the Duluth Art Institute. Do you want to address the opioid epidemic? Apply to be the Public Health Opioid VISTA at St. Louis County Public Health. Interested in developing strategies for disaster-resilient neighborhoods? The Resilient Housing Development Specialist VISTA at Ecolibrium3 in partnership with the Duluth Area Community Foundation may be the position for you. How about leading a team of passionate individuals to build community capacity and develop coordinated anti-poverty strategies? We want a dynamic and motivated individual to serve as the Ecolibrium3 VISTA Team Leader. We will be accepting applications until March 20, 2020 for these full-time yearlong positions starting on Monday, April 13, 2020.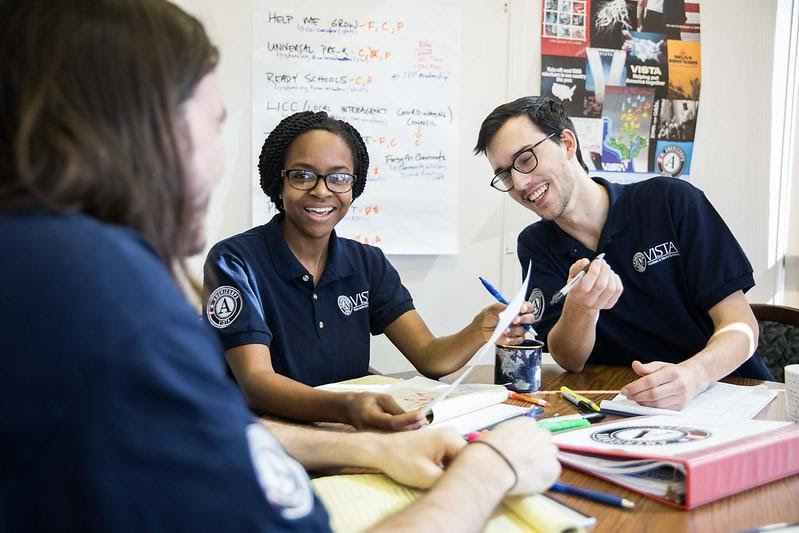 AmeriCorps VISTA members bring passion and perseverance to organizations that help eradicate poverty. As an Ecolibrium3 VISTA cohort member, you will build the capacity of local community based organizations and government agencies, identify levers for anti-poverty opportunities in Duluth, MN and surrounding communities, and advance solutions in areas such as food security, sustainable energy, community development, nonprofit outreach, and public health. We currently have 16 VISTA members serving at 10 different host organization around the region, and are excited to add these new positions.
There are a variety of benefits you will receive as an AmeriCorps VISTA member including:
Living Stipend (approximately $12,456 for members; $14,851 for team leaders)
Education Award (approximately $6,195) or End of Service Stipend (approximately $1800)
Federal Student Loan Forbearance
Child Care Allowance (if eligible)
Relocation Allowance (if moving more than 50 miles away)
Health Coverage (see americorps.gov for more information)
Training and Professional Development Opportunities
Collaborate with other AmeriCorps cohort members
Pursue outside education and employment if it does not conflict with AmeriCorps VISTA program commitments
Serve communities Northern Minnesota by getting things done for the betterment of all
Check out the full position descriptions or reach out for more information.