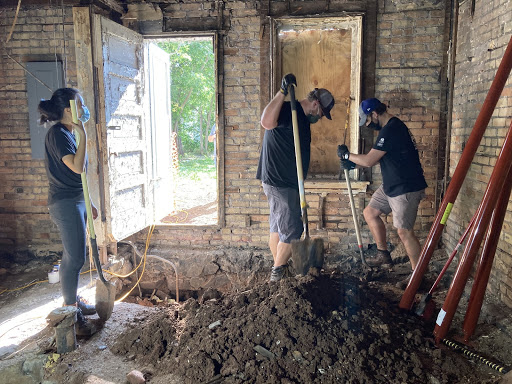 September and October have been big months for the AmeriCorps Legacy House project! The AmeriCorps Legacy House, which will affordably house AmeriCorps VISTA members serving in Duluth, has been a project that several cohorts of AmeriCorps VISTA members have invested time and energy into, and this year we have the privilege of seeing significant progress on the construction side.
The house sat for many years as a condemned building before being acquired by Ecolibrium3 in 2017 as a donation from the City of Duluth. VISTA members have cleaned the property, formed crucial partnerships, such as with local trade unions and training institutes, and are pursuing grant opportunities for financing the project.
Now, much of that hard work has paid off! At the end of September, Ecolibrium3 was awarded a challenge grant of $40,000 from the Lloyd. K Johnson Foundation. Once Eco3 has successfully fundraised the challenge grant amount, the funds will primarily go towards purchasing materials for the construction and rehabilitation of Legacy House.
Progress has also been made on the construction of Legacy House with the incredible contributions of our trade union partners and other supportive businesses.
New Construction Progress:
Electricity has been restored to the property
New lateral plumbing work and a sump pump was installed
The basement has been prepped for concrete, including installation of rebar and leveling of floor
Carpenters have begun to pour concrete in the basement and will begin framing of interior walls
For many of these partners, Legacy House is also serving as a training site for their apprentices who may not always get the chance to practice outside of a studio. These are also critical steps that will ensure that Legacy House is able to withstand the impending Duluth winter.
In addition, Eco3 VISTA members and staff have been crucial in doing some of the hard work that goes into rehabbing an old home! Eco3 VISTA staff and members spent several hours digging into the hard-packed clay in the basement to lay drain tile around the perimeter of the house and to create a pit for the sump pump. These additions will ensure that water drains aways from the house properly. Eco3 VISTA members and staff also helped level the basement floor with sand and pea gravel so that the basement was ready to go for carpentry work. Finally, VISTA members got to have a little fun using a demo hammer to remove the old sidewalk from the side of the house. According to VISTA members, whose work is usually done on computer screens in COVID times, these days at LH are a much needed break that still allow them to do some good in the community!
Legacy House has definitely been, and will continue to be, a team effort from all involved- Eco3 staff, VISTA members and our invaluable community partners! Ecolibrium3 is beyond excited to share updates with all of you on Legacy House and can't wait to share more as this project rapidly progresses!