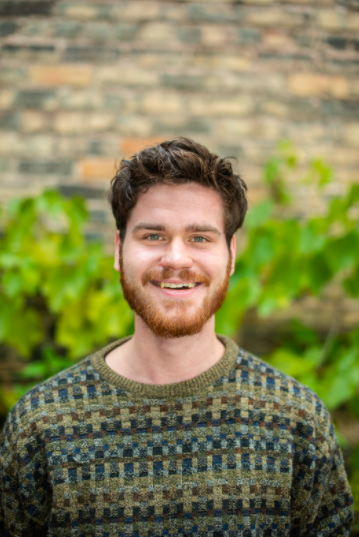 My name is Lucas Giese and I am Ecolibrium3's AmeriCorps VISTA Coordinator. As a former member of the Ecolibrium3 AmeriCorps VISTA Program, I lived like a VISTA for two years. Though my service terms are over, this opportunity strengthened my dedication to public service and helped build a strong relationship with the Duluth community so that I'm proud to say that I still live like a VISTA!
I joined Ecolibrium3's AmeriCorps VISTA Cohort in September of 2018 following a year of service abroad in India. Upon returning to the United States and venturing into the job market in earnest for the first time, I searched for a way to combine my undergraduate educational experience in politics with my dedication to environmental and social justice. I was fortunate to find a position as Ecolibrium3's Community Energy Program Developer, an opportunity that allowed me to grow professionally and become a part of a community that has been my home for the past three years.
In my VISTA position, I worked to expand Ecolibrium3's energy programs that helped low-income homeowners and renters make their homes more energy efficient and affordable. I learned an incredible amount about energy efficiency, how to effectively run a program, and was able to share and implement this information through training volunteers, developing workshops, and engaging and enrolling program participants. I signed up for a second year to continue to expand Ecolibrium3's reach by developing the Lincoln Park Solar Garden, building the capacity of Minnesota Power to reach low-income families, and coordinating our community response to the coronavirus pandemic. I've raised thousands of dollars for our new solar array and managed its construction, built partnerships throughout the community, and trained thousands of volunteers in our Pay It Forward PPE Project. A second year allowed me to see the fruits of my service, whether strengthening the relationships built during my first term or seeing projects come to completion!
Throughout my two years of VISTA service I lived with and made many meaningful memories with other members of the Ecolibrium3 cohort. VISTAs were a large part of my community in Duluth as we all adjusted to a new city, new jobs, and new opportunities. I wouldn't have accomplished as much, have had as much fun, nor continued to live in Duluth had it not been for the support and friendship of my fellow VISTA service members.
With the two years of experience living like a VISTA, I know the challenges of service but also the rewards of becoming a part of and contributing to a community. I was honored to step into the role of VISTA Coordinator with Ecolibrium3 to assist our new cohort of VISTAs as they navigate their own year of service. With this position and the many lessons learned over my two years of service, living like a VISTA didn't stop at the end of my last term, but continues to inform the way I approach my personal and professional life every day.