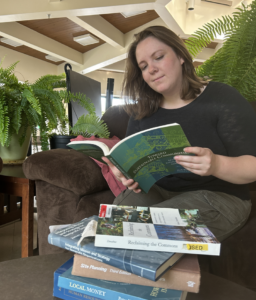 Ecolibrium3 is pleased to welcome our newest staff member, Jennifer Hansen. Jenn joins our staff as Director of Main Street Lincoln Park and Business Sustainability. 
In this role, Jenn will coordinate Main Street Lincoln Park meetings and convene the Craft District businesses for events and promotions. She will also work with local businesses to promote sustainability and vitality, in Lincoln Park and throughout Duluth. Jenn will also contribute to important ongoing projects, like Community Geothermal Planning, the West Superior Street Redesign, and more. 
Jenn's work in business sustainability is important to our mission at Ecolibrium3; economic vitality is a key aspect of building an equitable and sustainable future. Projects are designed to benefit not just Main Street businesses, but also Lincoln Park residents, because sustainability is only possible if the entire community benefits. While Jenn will be working closely with Lincoln Park business owners, her ultimate goal is a intertwined community between the residents and the businesses. 
Jenn's impressive background makes her a fantastic fit for this role. After graduating from Western Washington University with a B.A. in Business & Sustainability, she pursued jobs that focused on economic development and supporting small businesses. While living in Aberdeen, Washington, Jenn took a planning job in the town of Seabrook. Her work allowed her to take part in the development of the business district through community event planning, business promotions, and real estate marketing. She moved to Duluth in 2021 and quickly became an active member of the community by volunteering with Meals on Wheels, Love Your Block, and working on a Minnesota Sea Grant project. Most recently, Jenn was working at Bent Paddle Brewing Company in communications. During her time there, she attended Main Street meetings, coordinated events in the Lincoln Park Craft District, and made deep connections with the community. 
Jenn is also a Lincoln Park resident, and she enjoys sailing, skiing, cold water plunges, and anything that is iconically 'Duluth-y'. Most days you'll find her walking the neighborhood with her two large and fluffy Bernese Mountain Dogs. If you see her around, say hi!