Safety Guidelines and Protocols
Volunteer safety is a top priority for Ecolibrium3. The Pay It Forward PPE project follows all appropriate recommendations and guidelines from the CDC, the U.S. Department of Labor, the MN Department of Health, and local health officials to manage and reduce volunteer risk.
Ecolibrium3 has completed a comprehensive COVID-19 Preparedness Plan that includes processes for screening and providing protective equipment to volunteers, developing administrative and engineering controls that enforce rigorous social distancing, and maintain constant cleaning and disinfection practices.
While Ecolibrium3 works diligently to ensure the health and safety of staff and volunteers, there are inherent risks associated with volunteering and each volunteers should evaluate their own ability to take such risks .
Guidelines:
All volunteers should review these recommendations to stay safe and healthy while volunteering.
Administrative and Engineering Controls: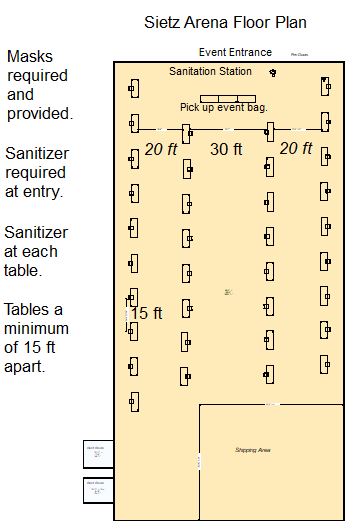 All event work stations will be a minimum of 15 feet apart.
When entering the event, volunteers will immediately be given a mask that is required to be worn at all times during the event.
Volunteers will sanitize their hands and collect their volunteer bag, then move to a socially distanced work station.
At the work station, the volunteer will complete the health assessment included in their bag.
Assembly will proceed at each sanitized work station.
Volunteers will re-sanitize their hands anytime they leave their work station.
Work stations will be sanitized in between volunteer sessions.
Volunteer Screening and PPE
All volunteers will be required to complete a self-screening and waiver before volunteering. Volunteers under the age of 18 will be required to have permission and signature of their parent or guardian.
All volunteers will be provided with a face mask which will be required to be worn at all times while participating in the project.
Sample Volunteer Screening for COVID 19 (Answer Yes or No):
Have you been diagnosed with or have experienced any of the symptoms of COVID-19 (see above) in the past 14 days?
Has anyone in your immediate household been diagnosed with or experienced any of the symptoms of COVID-19 (cough, fever, etc) in the last 14 days?
To the best of your knowledge, have you come into contact with anyone who has COVID-19 or was exposed to the virus in the last 14 days?
Do you or someone you live with have any sort of underlying illness or health conditions that may be exacerbated by COVID-19?
If you answered YES to any of the proceeding questions, you are NOT allowed to volunteer at this time.
Symptoms of COVID-19
People with COVID-19 have had mild to severe respiratory illness with symptoms of:
Cough
Shortness of breath or difficulty breathing
Or at least two of these symptoms:
Fever
Chills
Repeated shaking with chills
Muscle pain
Headache
Sore throat
New loss of taste or smell