The internet allows us to access news, communications, health resources, job applications, shopping, emergency updates, education, and more. From checking the weather to watching historical events unfold, the internet has become part of daily life. Because we all depend on internet access, the City of Duluth wants to make sure everyone can afford a fast, reliable connection.  A new initiative, called Duluth Fiber, hopes to do just that. 
Duluth Fiber has two main parts: 
New fiber optic cables laid throughout the city

Publicly owned and operated internet service option

The City conducted intensive research to find the best option for updated internet services to find an option that is cost-effective and high quality. The research showed that fiber optic cable is the answer. Fiber optic networks have excellent bandwidth, which means faster internet speeds. Fiber optic is also cheaper to install than other options, and can send information over long distances without losing quality.
Consumers will also notice a new choice when shopping for internet providers—the City of Duluth. This publicly owned and operated internet service will be competing with private companies, and the City plans to be very competitive! Public internet is not designed to make a profit, so the monthly bill will just cover operational costs. Another benefit of this public option is that, over time, it will cover the costs of the new fiber optic network, so this project will never raise taxes. After the cost of installation is covered, those monthly bills will be even lower. 
Ecolibrium3 supports this project, because it will spur economic activity and increase equity. Affordable internet will put money back in the pockets of Duluth residents, strengthen local businesses, and bring internet access to more homes. To make sure everyone feels the benefits of this new infrastructure, the City plans to provide a no-cost internet program as well. This program would use federal and state grants, along with private donations, to provide internet access to qualifying households for less than a dollar per month.
Even if residents choose to stay with their current provider, they can expect to see improvements in their internet from the Duluth Fiber project. Not only will service improve from the new fiber optic cables, but costs should also go down. Private companies will have to lower costs to compete with the new, cheaper, public internet option. To make sure everyone is competing to provide the best service at the lowest cost, consumers will be able to change their internet provider at any time.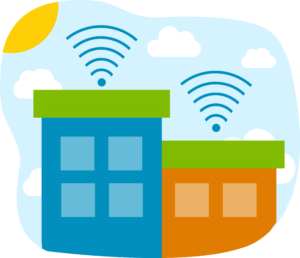 Ecolibrium3 has seen how public broadband works around the country to improve internet access, spur economic growth, and make life better. Chattanooga currently has one of the best broadband networks nationwide thanks to its public utility. Bristol, Tennessee has an award-winning public broadband service, and Lafayette, Louisiana has had enough success with its public broadband to expand to nearby rural areas. Our favorite part about Duluth Fiber is that it will start right in our neighborhood—the first new cables will be laid in Lincoln Park!
So, what's the catch? This project will only work if there is strong public interest. The City of Duluth can rent the room, but the party only happens if enough people show up! We can improve internet access for all of Duluth if we all pitch in. 
Lincoln Park will be the location for the pilot project, to make sure the initiative is feasible. It will then be spread throughout the community if there is enough interest. But this pilot could be canceled if there isn't enough public interest. If you would like to see faster, cheaper internet throughout Duluth, please sign your support today at connectingduluth.com. 
Want to do more? Ecolibrium3 is building support for this project specifically in the Lincoln Park neighborhood to support the launch of the pilot. If you live in Lincoln Park, please tell your friends and neighbors to sign their support as well.