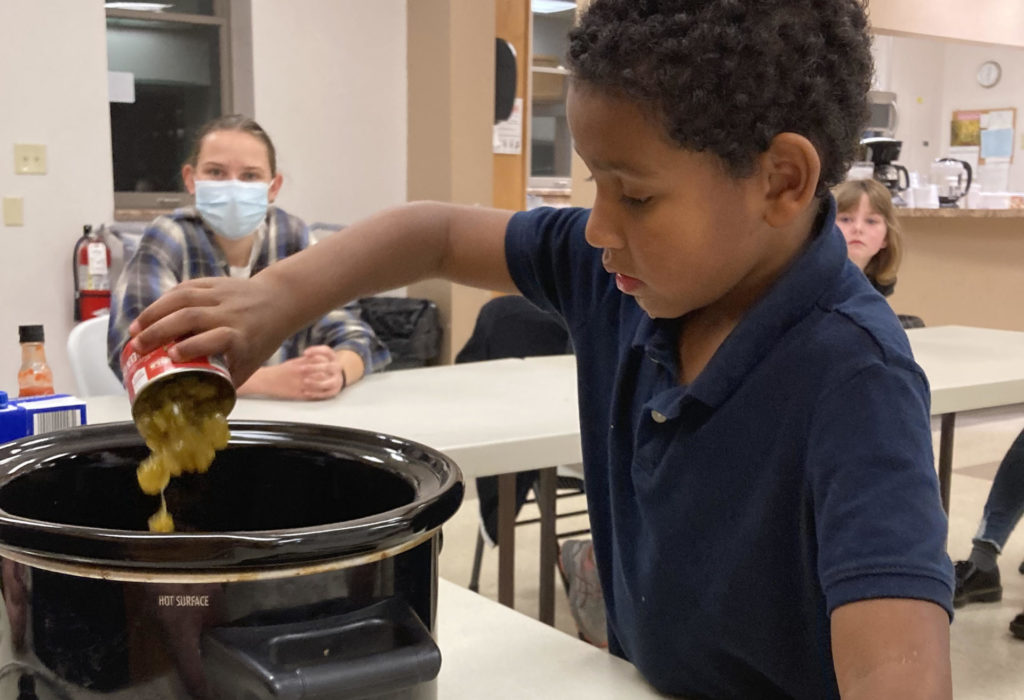 Ecolibrium3 hosted four Stone Soup events this fall in which the Lincoln Park community came together to share a meal and enjoy each other's company. The story behind the Stone Soup gatherings is based on a folktale that goes back centuries. It tells of three hungry travelers who convince villagers that they can create a delicious soup with only boiling water and a few stones.  Little by little, the curious villagers offer to contribute different vegetables…a carrot here…a cabbage there…until finally there's a big pot of hearty soup for everyone to share and enjoy. And in the end, the villagers believe the magical stones created the wonderful soup. The moral of the story is, if we all contribute, together we can create something rewarding and beneficial for everyone.  
The Stone Soup gatherings help increase family intergenerational preparation and sharing of healthy meals, as well as increase community social connectedness. They also grant access to locally grown, healthy food resources, expand community education and knowledge in preparing healthy food, and create a safe place to share stories, experiences, and recipes.
Partners include Ecolibrium3, Northern Expressions Arts Collective (NEAC), U of M Extension SNAP-Ed, Community Action Duluth, and the UMD Land Lab along with Environmental and Ecological Justice students in the Environment, Sustainability, and Geography Program at the University of Minnesota Duluth.  Stone Soup nights were part of the larger food access Stone Soup Initiative with the Duluth Community Garden Program, Duluth Children's Museum, and Community Action Duluth, with funding provided by the St. Louis County Health Innovation Fund.