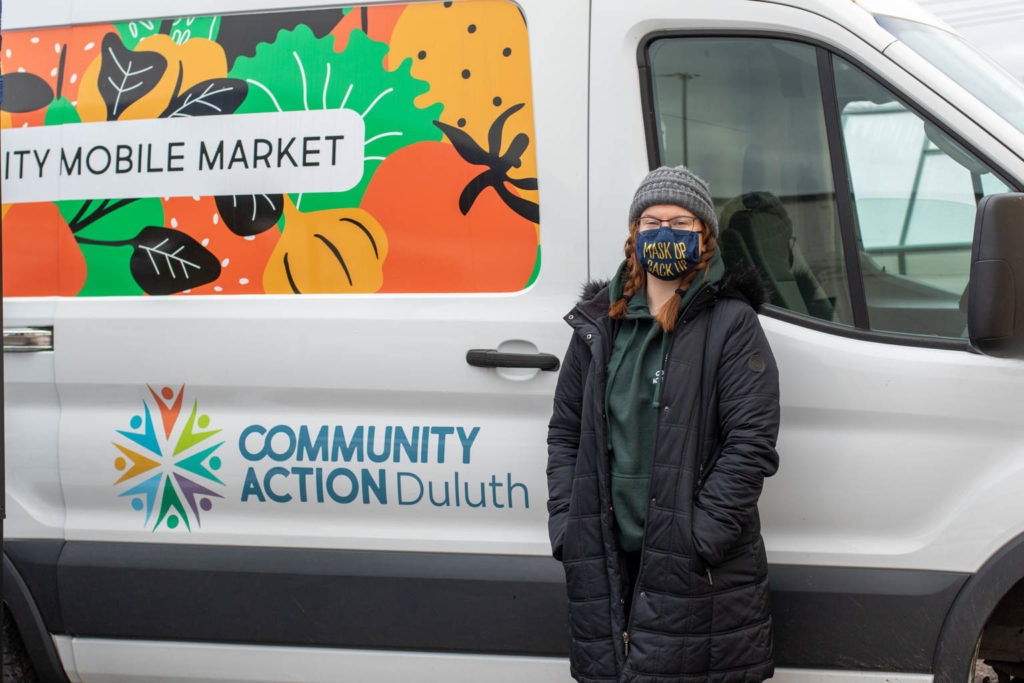 Meet Aly Brewer, Community Action Duluth's Environmental & Social Justice VISTA! Over the past year Aly played an instrumental role in helping to launch the Mobile Market, "a grocery store on wheels," that provides affordable and nutritious foods to communities with limited access to affordable groceries and fresh produce. Read her story about the launch of the mobile market:
After weeks of Minnesota cold, I woke up on a sunny, 45 degree Saturday morning. "Perfect timing!" On February 27th, the Mobile Market soft opened outside the Children's Museum's new location in Lincoln Park. As Community Action Duluth's Environmental & Social Justice VISTA, I could not have been more proud to see a project we worked on since last year come to fruition.
The Mobile Market is essentially a grocery store on wheels. While this idea has been in the works for quite some time, we decided to start it this year as a direct COVID-19 response. The pandemic has exacerbated food security issues, exposing a deeper need for food justice in the region. The Mobile Market hopes to support our community by providing fresh produce, dairy products, pantry staples, canned goods, condiments, and locally grown food at affordable prices. We will serve three locations around Duluth- Morgan Park, Lincoln Park, and Harbor Highlands- with a few pop-ups here and there. Folks can pre-order online for pickup at one of our locations or apply for delivery. Similar to our farmers markets, people can also purchase food products in person. The Mobile Market accepts EBT, credit, debit, and cash, and we also provide discounts for EBT card holders and free fruits & veggies for children under 18.
So, after months of waiting, we were finally launching our project!
I leapt out of bed, pulled on my green Mobile Market hoodie, grabbed my keys, and rushed out the door. Once I arrived at Community Action Duluth, the team and I started preparing boxes and crates of food for the market. Masked up, gloved up, and coffee'd up, we finished at a brilliant speed, just in time to head over to the Children's Museum.
We parked the van so the Mobile Market and Community Action Duluth logos face traffic. News crews and spectators started to speckle the street. Our team set up tents, tables, chairs, then we unloaded the crates and boxes of food to put on display. Temperature sensitive food stays in the refrigerated van until ready to be bagged. We ran like a well-oiled machine, handing out pre-orders, bagging in person orders, and talking with community members about our operation.
I helped one lady cross the street and placed her order in the back of her car. She smiled and thanked me, thanked us, for the work we do. Another woman raved about how these are the cheapest groceries she has ever bought. A passerby gets excited when I inform him of the locations we serve. At the end of the day, when the food, people, and cameras left, I felt both tired and exhilarated. We did it. We launched the Mobile Market. And so far, the community seems to appreciate the project. I am excited to see where else this grocery store on wheels takes us.
Update: As of today, June 9th, the Community Mobile Market has served over 150 community members and we hope to expand to more locations in the coming months. Feel free to check out updates on the Community Mobile Market at www.communityactionduluth.org!