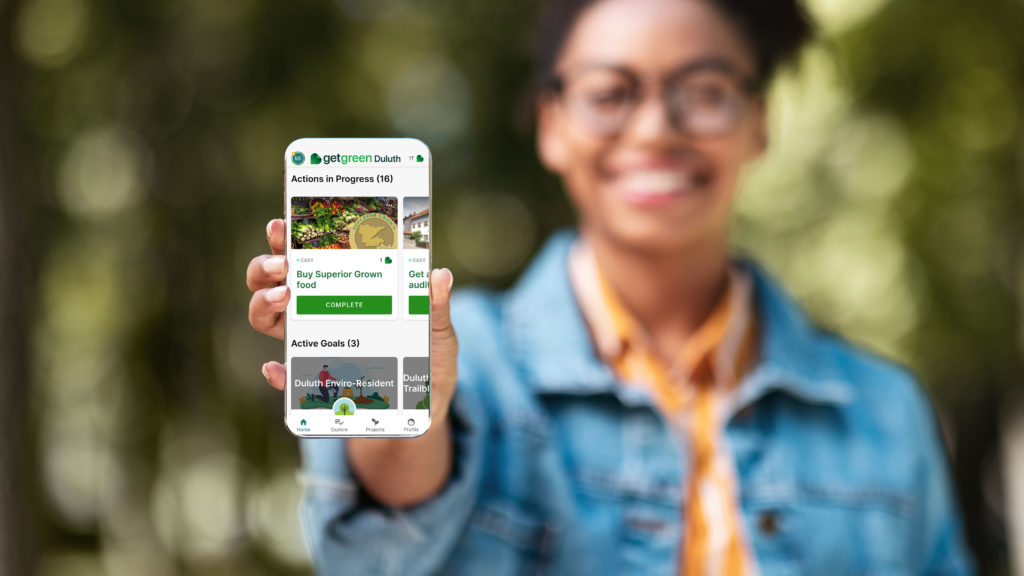 Citizens in Duluth have an exciting new tool to take daily action on the climate through a mobile app designed to advance the Duluth Citizens' Climate Action Plan. This plan is a citizen-led effort to inspire community-wide action to reduce Duluth's greenhouse gas emissions and envision a future for Duluth that is sustainable and equitable.
To advance this initiative, Ecolibrium3 is working with GetGreen, a Seattle-based startup that developed a mobile app to help individuals and organizations understand and have impact on the climate crisis through daily actions prompted by the app. As the first community scale version of the app, GetGreen Duluth was developed to demonstrate how the app can bring a community together to take climate action.
"Duluth is taking meaningful steps to help address the climate crisis, and in the process is setting an example for towns and cities across the country and around the world," said Brian Ringer, CEO and co-founder of GetGreen. "Duluth's leaders know they have to engage members of the community to achieve their emissions reduction goals and for the program to be a success. We at GetGreen are happy to play a role in activating that engagement, converting intention into action, and contributing to a more sustainable Duluth."
The City of Duluth has committed to carbon neutrality by 2050, with a near-term goal of reducing carbon emissions by 50% by 2030. The Duluth Citizens' Climate Action Plan was crafted to help our community take individual and collective steps toward a more resilient city.
"Duluth is committed to being a climate leader and it is exciting to be part of a pilot project that elevates community action and innovation. Our city has already been identified as a future climate haven, so it is imperative that we do all we can to become a sustainable and resilient region," said Mayor Emily Larson.
Through promotion and use of the app, hundreds of local individuals will be introduced to the Duluth Citizens' Climate Action Plan and be provided with a daily activity to support the goals of the plan. Daily activities include actions in support of local and lower carbon transportation and transit options, local food, composting and waste reduction, energy efficiency, renewable energy, and other efforts to reduce climate impacts through individual behaviors and advocacy.
The platform's gamified approach not only increases engagement and action, but the partners have created a collective goal of raising funds to support a Duluth Micromobility Hub in Lincoln Park. App users will earn leaves for their actions that will earn funds for bringing critical mobility options to underserved areas of this community.
"GetGreen is a fantastic way to get our community involved with the Duluth Citizens' Climate Action Plan. GetGreen has crafted a platform that has allowed us to implement the Duluth Citizens' Climate Action Plan on an individual and community level," said Ecolibrium3 CEO Jodi Slick. "Using GetGreen Duluth will help us implement the Duluth Micromobility Hub in Lincoln Park. This hub will increase transportation access for neighborhood residents experiencing high levels of poverty and disability by providing low-carbon mobility devices for check out. GetGreen has really opened the road for community change in Duluth."
GetGreen Duluth is available now as a free download for iOS and Android devices in the Apple and Android app stores.
To download the app, visit https://link.getgreen.eco/r8FFUxQN7sb or the respective Apple and Android marketplaces.
This project is in partnership with Grid Catalyst, a Minnesota-based energy and climate tech accelerator. GetGreen is one of five startups participating in its 2022 Demonstration cohort.