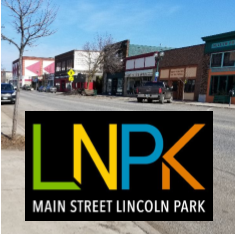 Ecolibrium3 kicked off Main Street Lincoln Park activities beginning with monthly meetings in June 2019. Exploring Main Street America designation for our district came from the need to thoughtfully advance the projects, infrastructure, and promotion of the Lincoln Park neighborhood. Although the Main Street approaches have a business focus, the vitality and interconnection of the entire neighborhood is recognized as a critical component to the success of the business district.
In addition to being a successful, proven structure, Main Street America also offers several tools for designated neighborhoods. Training, toolboxes of all kinds and a feed for directors to communicate with each other help us all to do a better job for our districts—without reinventing the wheel every time. But we are now in uncharted territory.
The COVID-19 pandemic has rushed all of us into a new way of life and doing business. As we navigate the minute-by-minute changes, the national Main Street community stepped up with information for designated and affiliated neighborhoods. The Main Street Lincoln Park staff at Ecolibrium3 was still able to hold the monthly Main Street Lincoln Park meeting—albeit in the virtual conference room also known as Zoom—to hear the immediate concerns of businesses who had been instructed to close and those still open but dealing with reduced commerce at this time. Our committees have met to address the current reality, and we have been able to provide informational meetings to direct business owners to federal and state programs that can help their financial outlook along with informational notices with promotional ideas and security tips. We have created resource lists that will continue to be updated with the most accurate and recent information we have available to us for both our residents and business owners. Alongside us, our business partners have been retooling, redirecting, and partnering with us and each other to help the community at large stay healthy and fed with a better awareness of our neighborhood needs "from rocks to docks, skyline to shoreline."
If you need help navigating the online information, if you have a resource you feel should be added, or if you want to be added to the Main Street email list, please contact Shannon at shannon@ecolibrium3.org. As a member of this community for over a decade, we have witnessed the collaboration and hard work that continues to make Lincoln Park strong. As your Main Street Lincoln Park office and neighborhood partner, we will continue to provide supports that keeps everyone's hard work propelling all of us forward.
#CraftingSomethingGreat