LINCOLN PARK SOLAR GARDEN DESIGN SERIES
In October 2020, the site at 1450 W Michigan Street became home to the Lincoln Park Solar Garden. The Solar Garden project provides renewable energy to vulnerable, low-income families in Lincoln Park and provides 25% of its power to the Duluth Veteran's Place, a transitional housing project for homeless veterans. As built, the 4 solar arrays stand 12 feet above the ground, creating ample space underneath them to implement a variety of community amenities.
Thanks to funding from NOAA's Office of Coastal Management and the Minnesota DNR, Eco3 was able to host a workshop series focused on gathering input for the design of the Lincoln Park Solar Garden, in an inclusive, equity-centered way. Four workshops were held between May and September 2021 that touched on history, culture, storytelling, art, climate adaptation, water, community opportunities, transportation, sustainability, green infrastructure, stormwater management, ecology, and biodiversity. Below are the results of the workshops and the amazing ways our community became involved with the future planning of the Lincoln Park Solar Garden.
The Lincoln Park neighborhood and the Lincoln Park Solar Garden site are both located on the traditional, ancestral, and contemporary lands of Indigenous people. This was originally home to the Dakota (Sioux) people and is the current home of Anishinaabe/Ojibwe people. The Chippewa (the federal name given to the Anishinaabe/Ojibwe people) ceded the land through an 1854 treaty to the United States government. This land holds great historical, spiritual, and personal significance for its past and present stewards. 
The LNPK Solar Garden site was leased to Eco3 by the City of Duluth. The site has had many stewards and owners throughout history, but has never been more than a grassy hillside. The site can be seen just south of the intersection of Superior Street and Michigan Street, circled in white on the historic drawings to the right.
The 1854 treaty was signed by Chief Buffalo, who specifically agreed a square mile of land, in what is today downtown Duluth, near the Point of Rocks and Rice's Point, would be left for his people. In 1855, an event known as "The Big Swindle" ultimately took away the land set aside by Chief Buffalo for the sum of one dollar. Chief Buffalo understood that the land would be preserved for use by the Ojibwe and thus protect the sacred burial grounds at Rice's Point and Minnesota Point. This was just one instance in a long line of atrocities that has caused trauma for our local Indigenous communities.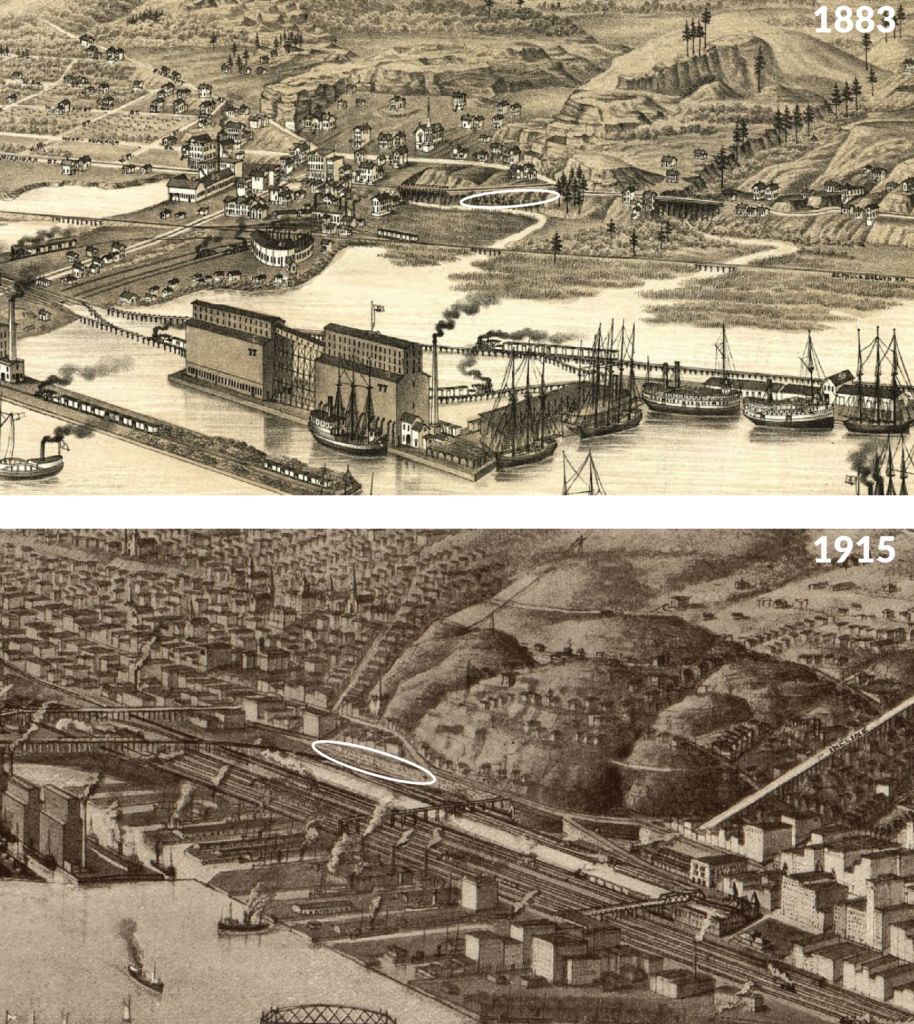 The Point of Rocks and the Lincoln Park Solar Garden
When Chief Buffalo signed the treaty with the US government in 1854, he included a description of a rock from which a mile in every direction would be reserved for his people. The rock that Chief Buffalo described is believed to be the Point of Rocks (seen behind the Lincoln Park Solar Garden in the photo below). However the 1854 Treaty was tampered with significantly and it was believed by the US government that the land described was located six miles away, along the shore of Lake Superior.
During the turn of the 20th century, a good portion of the Point of Rocks was destroyed, partially for safety concerns and partially to make room for Superior Street. There were attempts in both 1887 and 1927 to blast and remove the landmark completely. However, in 1887, blasting attempts were halted after a huge boulder was sent flying and nearly crushed a man riding on horseback. Mining companies wanted to mine the rockface for silver and blasted an entire tunnel through part of it in the 1890's.
In 1924, and again in 1931, thousands of tons of rocks fell onto Superior Street which prompted citizens to call for its removal. In 1927, Duluth's parks superintendent F. Rodney Paine wanted to use the boulders from the Point of Rocks to construct a breakwater near the Duluth Curling Club which would be turned into parkland. In 1939, city planners toyed with the idea of turning Point of Rocks into a sculpture of the City's founder, Daniel Greysolon Sieur du Lhut, and called in Mount Rushmore sculptor, Gutzon Borglum, to head the project. He deemed the rockface unsuitable for such a project.
Today, the Point of Rocks presents us an opportunity to reflect on and acknowledge our past while we inclusively and equitably design a new space right across the street that feels and truly is welcoming to all.
LNPK Solar Garden Project: How We Got Here and Where We Are Going
Project Details

38 kW Solar Array
Total Project Cost: $209,000
Installed Cost per Watt: $5.23
Total Fundraised: $240,000
Project Overview

The LNPK Solar Garden provides power to the Duluth Veterans' Place, a transitional housing project by the Minnesota Assistance Council for Veterans (MAC-V), and seeds a Community Energy Fund dedicated to assisting low-income families in times of crisis. The array is the neighborhood's first community-owned solar array and is the eastern entrance to the Lincoln Park neighborhood.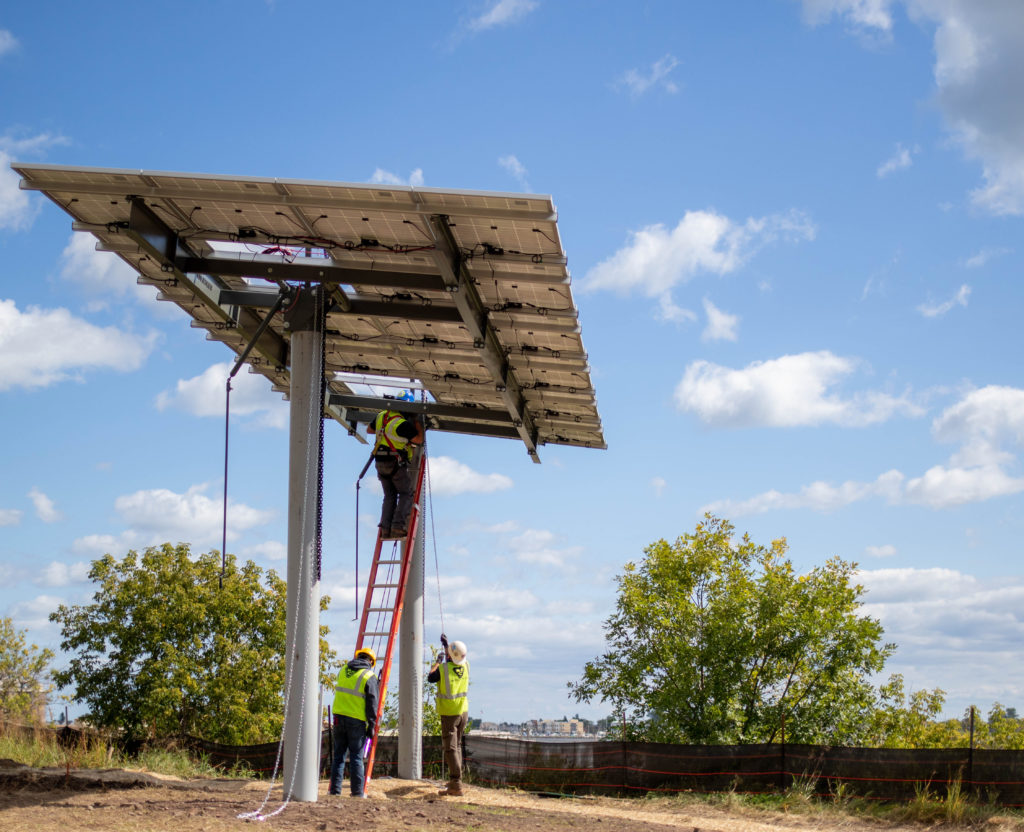 Planning Process

In the two-year development of the LNPK Solar Garden, Ecolibrium3 engaged community members, local stakeholders, and project contributors to assist in the design, funding, and procurement of the array. With land acquired from the City of Duluth and the project partially funded by Minnesota Power's Low-Income Solar Program, Eco3 engaged hundreds of participants in the design and funding of the project including community members and local leaders in an interactive design charette and a number of popular fundraising competitions (concept designs seen in the images on the right). Local foundations, industry, local businesses, and individuals stepped forward to contribute to the success of the project. There was always a vision that residents of Lincoln Park would be involved in the design process of the space once construction of the array was completed.
Installation

Working with other local, union contractors to secure the necessary construction, site design, and electrical work, Wolf Track completed the installation in a month's time despite the delays of the COVID-19 pandemic and the array was interconnected to the Minnesota Power grid on October 7th. 
Completion and Future Work

Ecolibrium3 was able to celebrate the completion of the array virtually on October 17th and socially-distanced on-site on October 22nd (seen in the photo to the immediate left). Local political leaders, contributors, and friends came to recognize the achievement of the array with an afternoon of bonfires, ice cream, and warm company. The photo on the bottom left was taken as the panels were being tilted, in April, which happens twice annually to account for the changing angle of the sun throughout the year. Also in April, Eco3 began work on a grant funded from NOAA's Office of Coastal Management and the Minnesota DNR. This workshop is a piece of that project with the ultimate goal of empowering local residents to get involved in development decisions that they are usually left out of. Our hope is to continue using these workshops to gather interest and input for how to appropriately use the LNPK Solar Garden as a community amenity. Incorporating community members into the design process and utilizing their input as experts of their own neighborhood is necessary to creating a new, equitable entrance to Lincoln Park.
WORKSHOP #1 - STORYTELLING
Guest Speakers

Christina Woods, Executive Director at the Duluth Art Institute
Carl Crawford, Human Rights Officer at the City of Duluth
Facilitators
Julius Venuti, LNPK Innovation Zone Developer at Ecolibrium3
Luke Viscusi, Main Street LNPK Innovation Zone Developer at Ecolibrium3
When: Saturday, May 22, 2021
Where: Lincoln Park Community Center (2014 W 3rd St)
For the first workshop in this design series, the goal was to acknowledge and recognize experiences shared by current and past members of our community.  To facilitate this discussion, we developed a timeline activity that bridged the personal experience and history of each of our attendees in Lincoln Park to the neighborhood's indigenous history and background as a long-standing African-American neighborhood in Duluth. Our experts, Christina Woods (Duluth Art Institute) and Carl Crawford (City of Duluth) facilitated a group discussion and the timeline activity, where attendees wrote down events significant to them and the larger community on post-it notes and placed them along a timeline. After the timeline activity, Christina and Carl shared their stories of Duluth's history. Engaging in the timeline activity before our experts shared their histories assured that our community members owned the events they added to the timeline instead of regurgitating events shared by our speakers. Events added to the timeline by the guest speakers and attendees ultimately helped us to calibrate the project as we moved forward. The workshop proved to be a jumping-off-point for further community conversations and clarified that the history of the land, specifically the Point of Rocks, needs to be acknowledged.
Guest speakers, Christina Woods and Carl Crawford, shared their stories of Duluth's history from the perspective of marginalized communities—indigenous Anishinaabe and African-heritage communities, respectively.
Facilitators

Jodi Slick, Founder & CEO at Ecolibrium3
Caitlin Donnelly, LNPK Innovation Zone Developer at Ecolibrium3
Julius Venuti,  LNPK Innovation Zone Developer at Ecolibrium3
Lily Strehlow, Energy and Sustainability Assistant at the City of Duluth
When: Thursday, June 24, 2021
Where: Lincoln Park (411 Lincoln Park Dr)
At Workshop #2 Ecolibrium3 hosted a free cookout with four activity stations focused on gathering community input and having critical discussions surrounding community challenges and opportunities. A SWOT analysis to examine Lincoln Park's strengths, weaknesses, opportunities, and threats as they relate to climate change and our need for adaptation was led by Julius Venuti (Ecolibrium3). It proved an effective way to communicate with individuals about the problems they see in their neighborhood and how those problems can be remedied.  Community members have a lot of affection for this neighborhood and know the potential it has. Lily Strehlow (City of Duluth) asked our attendees to reflect on their relationship with water and collected their responses while answering questions about the water conditions in Duluth. The conversations around water were wide-ranging and touched on everything from swimming in Miller Creek, to concerns over lead poisoning, to fishing, and to how necessary water is for brewing beer. Attendees had the opportunity to engage in informal discussions with Jodi Slick (Ecolibrium3) on local climate adaptation. By using the World Cafe Method, Slick created a space where anyone – even the children in attendance – could feel comfortable talking about climate issues and learn about the specific environmental challenges we face in Duluth.  Finally, Caitlin Donnelly (Ecolibrium3) adapted the timeline activity from the previous workshop so that community members could continue to add their stories, as well as hand-drawn renditions of some historical and personal events. The timeline proved to be a good engagement tool for all ages as kids could draw and tell stories relating to their or their family's personal history.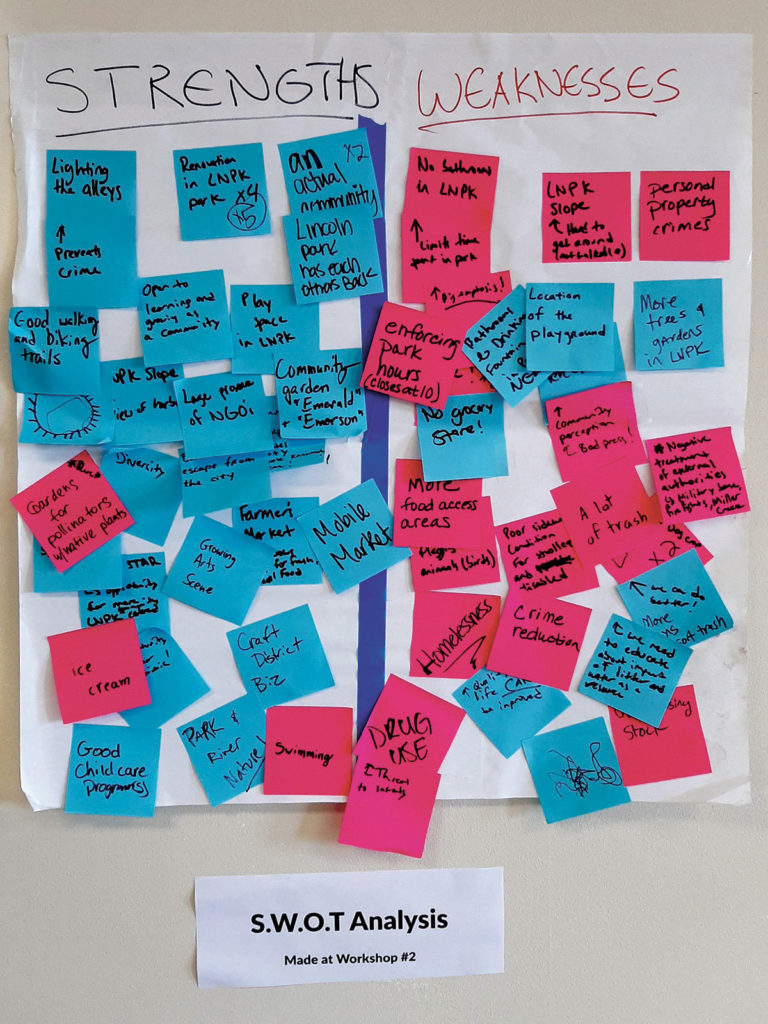 Above is an image of the S.W.O.T. activity where workshop attendees shared the strengths and weaknesses of Lincoln Park and discussed how these insights can be turned into opportunities to improve the neighborhood. Blue post-its indicate opportunities and pink post-its indicate threats.
Here are the three boards with all the experiences and issues attendees shared in connection to the Challenges with Water activity.
Through four activity stations attendees engaged our team in conversations on local climate adaptation, relation to water, history, and neighborhood conditions.
Guest Speakers

Chris Beldin, Director of Planning & Grants at the Duluth Transportation Authority
David Clark, Director of Marketing at the Duluth Transportation Authority
Alicia Kozlowski, Community Relations Officer at the City of Duluth
Kris Liljeblad, Senior Transportation Planner at the City of Duluth
Andrea Crouse, Community Development Manager at Zeitgeist
Mindy Granley, Sustainability Officer at the City of Duluth
Facilitators
Caitlin Donnelly, LNPK Innovation Zone Developer at Ecolibrium3
Julius Venuti,  LNPK Innovation Zone Developer at Ecolibrium3
Luke Viscusi, Main Street LNPK Innovation Zone Developer at Ecolibrium3
When: Wednesday, July 28, 2021
Where: Corner Park (1901 W Superior St)
For Workshop #3, the team set up shop in the Corner Park, a small park on West Superior Street, for an all-day event with three activity stations.  Attendees were asked to vote for their favorite murals within Lincoln Park's Main Street District. Through this activity we asked individual community members to be critical of the intentions behind art and about their own aesthetic preferences. We also asked participants to chart the route they took to the Corner Park with colored yarn on a large neighborhood map. The map reflected how our residents navigate the neighborhood while simultaneously creating a piece of art that is now on display at our Superior Street office. Lastly, local experts on transportation, public policy, infrastructure, stormwater management, and sustainability came out for hour-long intervals to have informal conversations with attendees. These conversations met our community members where they were at, and thus, removed physical and non-physical barriers to entry into critical conversations about our city. Not only were our community members able to learn more about our city, the current projects taking place here, and the specific problems we face, they were also able to speak openly and directly about their questions, concerns, and opinions about the direction of this neighborhood.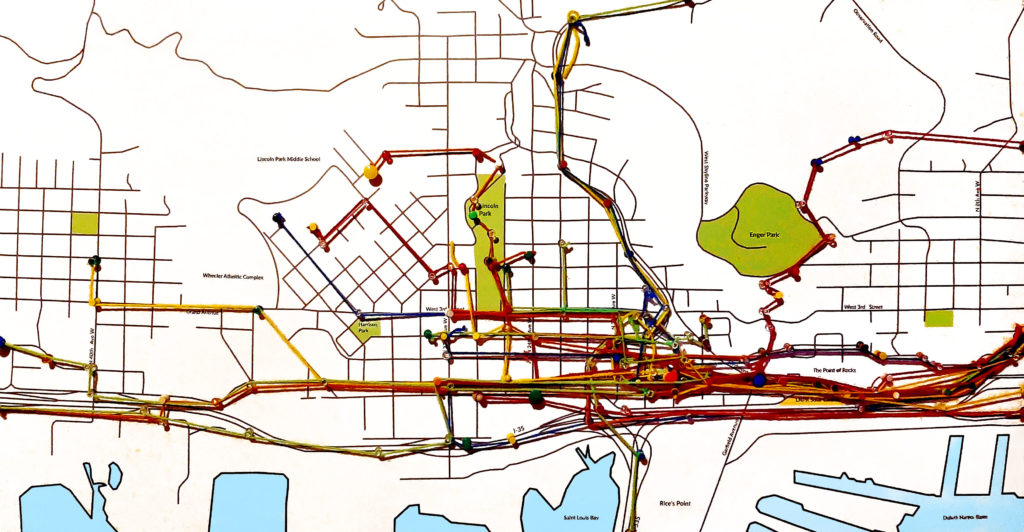 Above is an image of the Traffic Footprint full of differently colored yarn tracing the routes attendees took that day.
Guest Speaker

Deb Smith, Communal Garden Manager at the Duluth Community Garden Program
Facilitators
Caitlin Donnelly, LNPK Innovation Zone Developer at Ecolibrium3
Luke Viscusi,  Main Street LNPK Innovation Zone Developer at Ecolibrium3
Morgan Bliss, Rain Ready Housing Development Specialist at Ecolibrium3
When: Saturday, September 25, 2021
Where: Lincoln Park Community Center (2014 W 3rd St)
Workshop #4 was held in conjunction with the Eco3 Fall Party, which included family-friendly activities, community art opportunities, free Stone Soup lunch, and plant giveaways. Attendees learned about easy to grow, climate appropriate native plants versus noxious non-native plants from Morgan Bliss (Ecolibrium3). Deb Smith (Duluth Community Garden Program) provided us with the plants and expertise necessary for our native plant demonstration. Below you will find a recording of Deb talking about native plants, their benefits, and why they work best for our ecosystems. Caitlin Donnelly (Ecolibrium3) led attendees through an activity involving creating and testing a mock watershed, which helped attendees to better understand how our actions affect our local creeks and streams, and how that impacts our water ecology at a larger scale. Luke Viscusi (Ecolibrium3) collected input, through canvassing and drawing, from our community members for what future uses and amenities they would like to see at the LNPK Solar Garden. As part of the Fall Party, Northern Expressions Arts Collective also helped with Lake Superior Stormwater Chalk Fest. Attendees could literally "draw" attention to the ways we impact local waterways by drawing an image or writing a phrase that shows their relationship and/or connection to our local streams and Lake Superior. The goal of these activities was to tie history, art, community development, and infrastructure together, and discuss the role of the Lincoln Park Solar Garden within our neighborhood and solicit ideas for future site programming.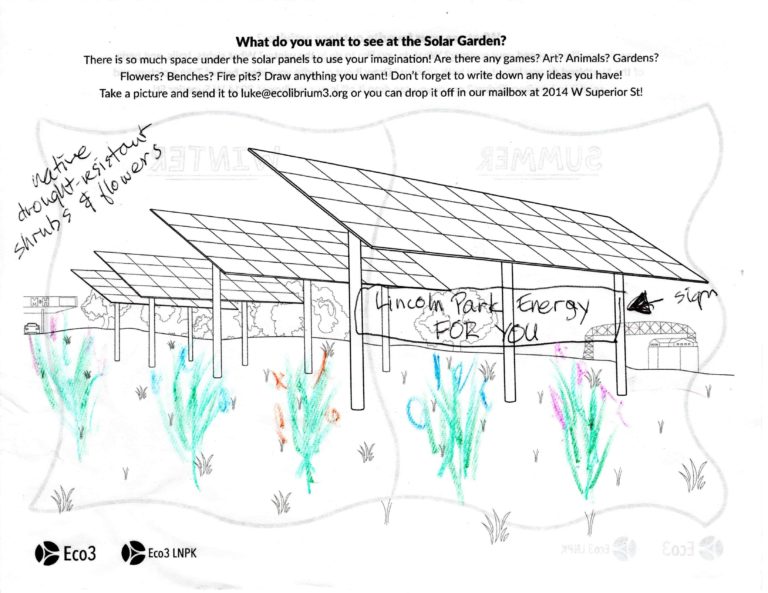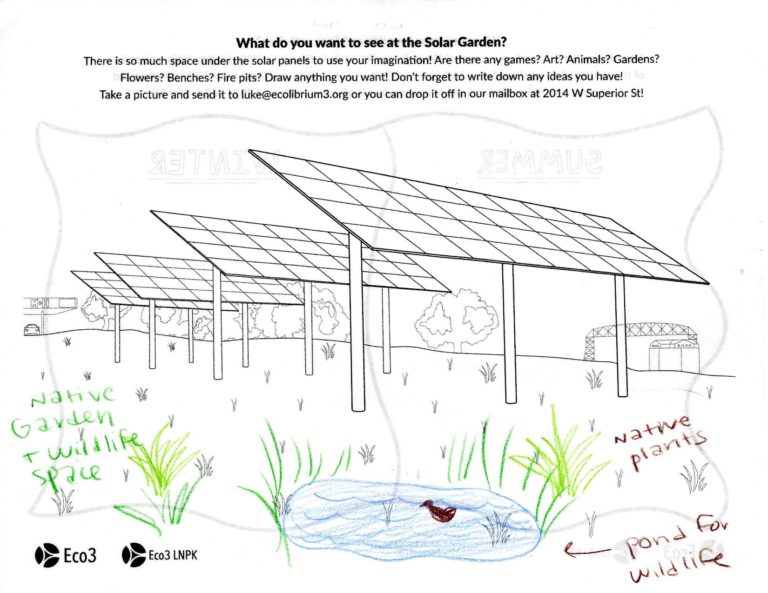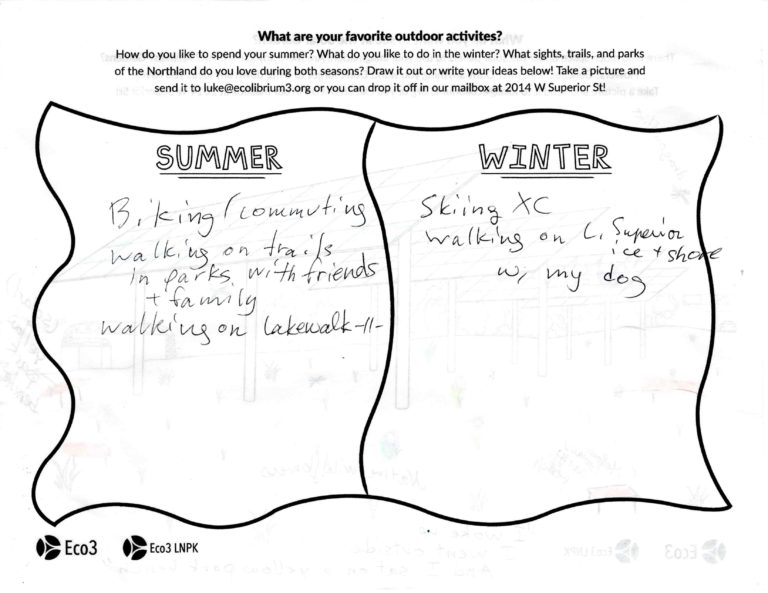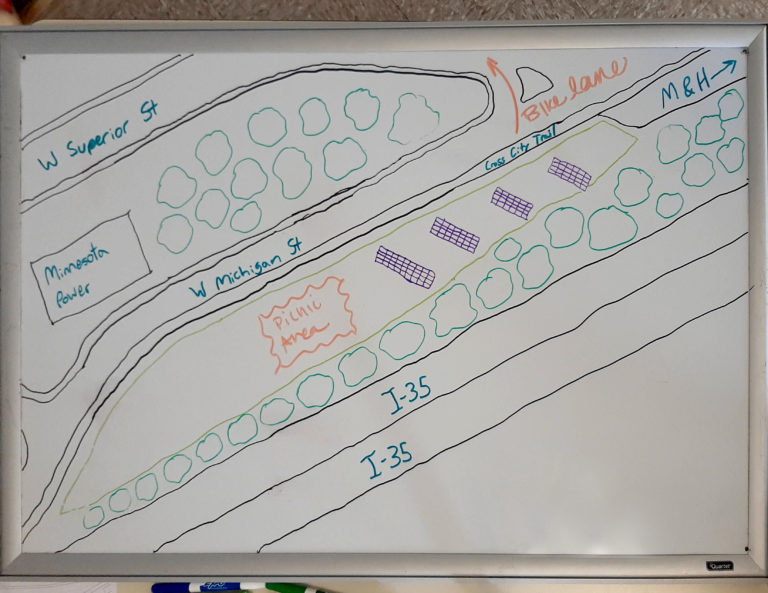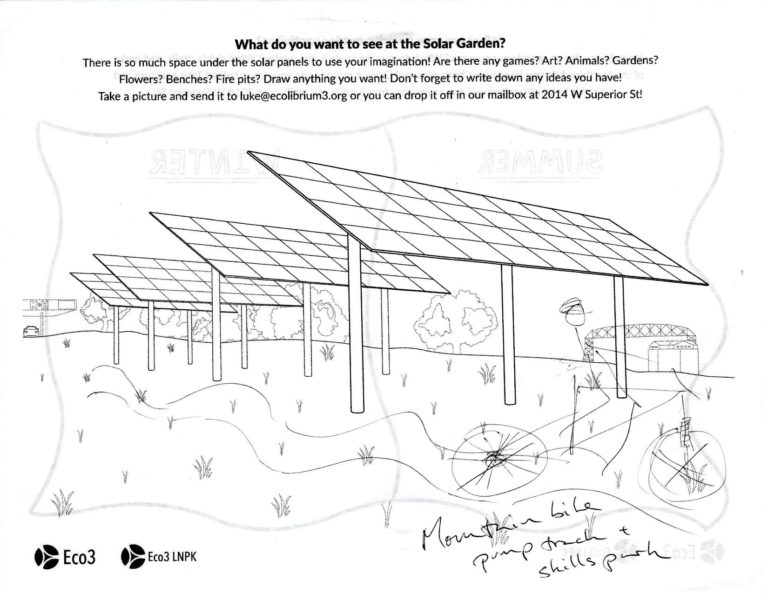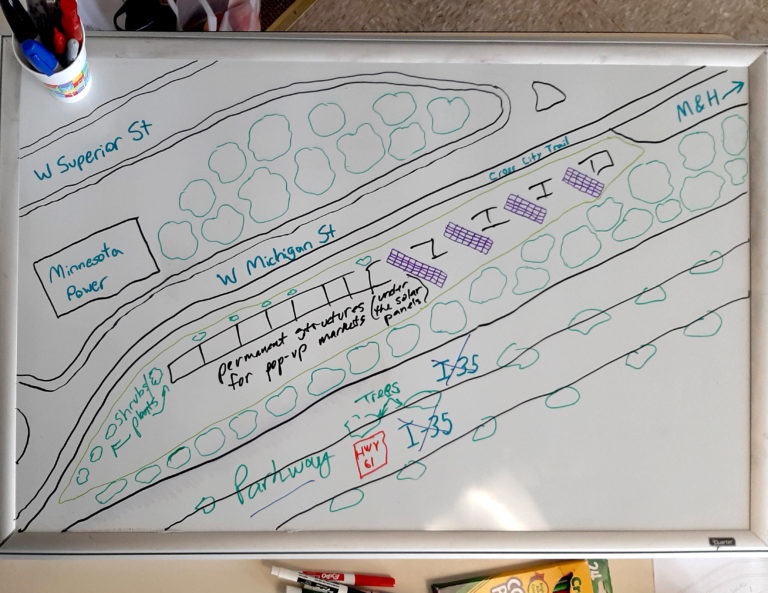 Attendees were asked to provide ideas for the future design of the LNPK Solar Garden. Above are some of the drawn and written ideas gathered throughout this workshop series.
Deb Smith, a Community Garden Manager at the Duluth Community Garden Program, shared her expertise and knowledge on native plants versus noxious/invasive non-native species and why native plants are best in our region.
An Ethnographic Study of Indigenous Contributions to the City of Duluth
https://duluthmn.gov/media/5867/duluth-ethnographic-study-final-july-2015.pdf
"Duluth's Point of Rocks." Perfect Day Duluth. https://www.perfectduluthday.com/2010/12/28/duluths-point-of-rocks/
"October 8, 1927: City Officials Announce Plans to Eliminate Point of Rocks." Zenith City Online. http://zenithcity.com/thisday/october-8-1927-city-officials-announce-plans-to-eliminate-point-of-rocks/.
"Point of Rocks." Zenith City Online. http://zenithcity.com/archive/parks-landmarks/point-of-rocks/
"Point of Rocks is Duluth's 'urban wilderness'." The Statesman
http://www.theumdstatesman.com/blog/2012/10/16/point-of-rocks-is-duluths-urban-wilderness
Wellge, H, J. J Stoner, and Beck & Pauli. View of Duluth, Minn. [Madison, Wis., J. J. Stoner, 1883] Map.   https://www.loc.gov/item/75694637/.
Wellge, H, Freeman Eng. Co, and Northern Scenic Publishing Company. The twin ports, Superior, Wisconsin, Duluth, Minnesota. [n.p. Northern Scenic Publishing Company, 1915] Map. https://www.loc.gov/item/75696723/.
***All workshops and corresponding marketing materials were prepared by Ecolibrium3 using federal funds under award NA20NOS4190088 from the Coastal Zone Management Act of 1972, as amended, administered by the Office for Coastal Management, National Oceanic and Atmospheric Administration (NOAA), U.S. Department of Commerce provided to the Minnesota Department of Natural Resources (MNDNR) for Minnesota's Lake Superior Coastal Program. The statements, findings, conclusions, and recommendations are those of the author(s) and do not necessarily reflect the views of NOAA, the U.S. Department of Commerce, or the MNDNR.
Eco3 Organization
In the last days of August, there was a buzz of activity at the Lincoln Park Solar Garden.
Read More »