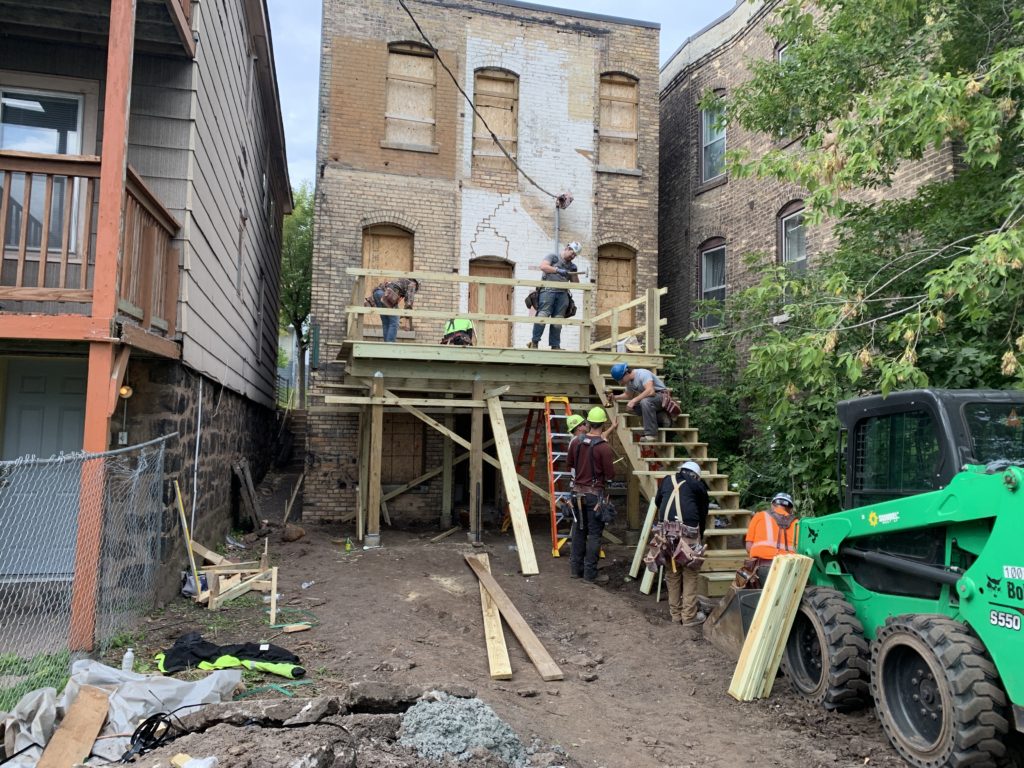 The Legacy House Project has resumed this fall with the addition of a deck on the back of the Legacy House. With the support of and contributions from various partners, progress towards revitalization continues.
Once finished, Legacy House will serve as an affordable housing model for community volunteers from the AmeriCorps VISTA program. These volunteers receive a living stipend below the federal poverty level, making it difficult to find affordable housing in the Duluth area. The Legacy House project then accomplishes two goals: redeveloping an existing structure into a home that positively impacts the community and creating opportunities for volunteers to better serve the Duluth community.
The deck itself serves several purposes. First and foremost it will be a fire escape exit for residents who will occupy the house. It will also provide extra living space for future residents, giving them an outdoor area to enjoy a cup of coffee to start the day or a glass of lemonade to cool off on a summer evening. Beyond the residents, the deck was a wonderful hands-on opportunity for students from the Carpenters Training Institute (CTI) to refine their technical building skills while contributing their talent to a worthy cause. CTI has been a long-term partner in the Legacy House project, and this deck construction worked well with their planned exterior framing course.
A special thanks to our partners and donors who helped make the deck happen: Campbell Lumber & Supply Co, Sunbelt Rentals, Architecture Advantage, United Rentals, Arrowhead Concrete Works, and the Carpenters Training Institute.