Buildings account for an estimated 9% of Duluth's greenhouse gas emissions. That is 154,941 tons of GHG for Duluth and 1.8 tons per person.
Most of the buildings in Duluth are not efficient. As much as 80% of the energy that we produce is lost through poor building design and building practices or wasteful behaviors. These inefficiencies include everything from buildings with poor insulation or the wrong sized heating systems, to choices we make to leave on lights and electronics or to excessively heat and cool our buildings.
The good news is that investing in energy efficiency is cost effective! Retrofitting new buildings, depending on circumstances, has a payback time of just five to seven years on average. Investment now can help us meet our 80% GHG reduction goals by 2050.
In addition, just maximizing our efficiency in heating and cooling our buildings could cut our GHG emissions by 30-40%, or 123,217 to 154,290 tons.
How do we get started? Here are steps some of our community experts recommend that will help us make our buildings more energy efficient and fueled by clean and efficient energy. Which actions will you commit to?
Featured Buildings Actions
Here are some featured actions related to buildings. Check here for new items as they are added.
When the City of Duluth passed its climate emergency resolution in April 2021, it was charged with developing a Climate Action Work Plan.
Learn More »
In 2007, Minnesota passed the Next Generation Energy Act, which in part mandated that every energy utility implement a program
Learn More »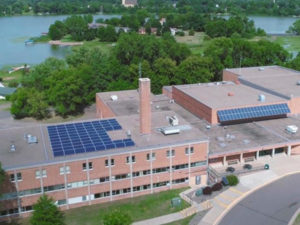 $8 million in Minnesota state funding is available for solar installations on schools in 2022.
Learn More »
Here are steps community experts recommend that will help Duluth reduce greenhouse gas emissions related to buildings. Which actions will you commit to?
Enhance Building Efficiency
Personal Awareness Actions
Actions you can take around your personal beliefs and values:
Individual and Household Actions
Actions can you take as an individual or for your household:
Institution and Business Actions
Actions schools, places of worship, and businesses can make:
Community and Systemic Actions
Changes you can advocate for at the community and systemic levels:
Shifting Building Energy Sources to Renewables
Personal Awareness Actions
Actions you can take around your personal beliefs and values:
Individual and Household Actions
Actions can you take as an individual or for your household:
Institution and Business Actions
Actions schools, places of worship, and businesses can make:
Community and Systemic Actions
Changes you can advocate for at the community and systemic levels:
Address Building Refrigerants
Personal Awareness Actions
Actions you can take around your personal beliefs and values:
Individual and Household Actions
Actions can you take as an individual or for your household:
Institution and Business Actions
Actions schools, places of worship, and businesses can make:
Community and Systemic Actions
Changes you can advocate for at the community and systemic levels: